As we work with more and more clients who are stymied by the pace of change today and how to keep up with it, we are ever more convinced that the answer lies in Inbound Marketing. As you learned in my last blog, Inbound Marketing is all about attracting interested buyers in an "inbound" rather than an "outbound" way (Step 1 in the buyer's journey).
Today's consumers search online for answers to their questions and solutions to their problems and you'd better be there, high up in the search rankings, or you'll be passed over. More than anything else out there in the marketing landscape, Inbound is the best way to turn strangers into customers, then promoters, of your business.
Now I'd like to focus on the next step of the buyer's journey: Convert.
At Simon Associates, we are HubSpot Partners and have been bringing on board a lot of our customers with inbound marketing strategies. Why? Because it works. Here's how:
The graph below created by Hubspot illustrates so well the four parts of a successful Inbound Market strategy: 1) Attract, 2) Convert, 3) Close, and 4) Delight.

Compelling content Attracts your dream customers (like moths to a flame), then a well-planned series of information-gathering tools Converts these searchers into leads (think sticky flypaper). Once you Close, they become customers, then it's up to you to Delight them so they become promoters of your product, brand or service.
Inbound converts people into leads
1) You understand keywords and you've done some research into which words people are searching for, which will lead them to your site.
2) You can measure how many visitors are coming to your site but beyond that, you're at a loss.
3) You don't know who these visitors are, nor do you have a way of communicating with them.
4) You'd like to find out what you could offer that they'd find useful. That's where Inbound is key.
How to convert visitors to your website into valuable contacts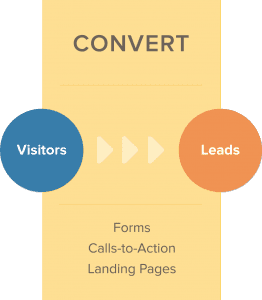 Once you have attracted visitors to your website, the next step is to convert those visitors into leads by gathering their contact information. At the very least, you'll need their email addresses. To the online marketer, contact information is the most valuable currency there is.
In order for your visitors to offer up that currency willingly, you must offer them something in return. That "payment" comes in the form of content: eBooks, white papers, webinars, how-to videos, tip sheets — whatever information would be interesting and valuable to your personas, those ideal customers you are trying to attract.
Some of the most important tools in converting visitors to leads include:
Forms: In order for visitors to become leads, they need to fill out a form and submit their information. This is how you'll be able to communicate with them throughout the buyer's journey. Tip: Make your form simple and straightforward to make this step of the conversion process as easy as possible.
Calls-to-Action: Calls-to-action are buttons or links that encourage your visitors to take action, like "Download Our Whitepaper" or "Attend a Webinar." If you don't have calls-to-action or your calls-to-action aren't enticing enough, you won't generate leads.
Landing Pages: When a website visitor clicks on a call-to-action, they should then be sent to a landing page. A landing page is where the offer in the call-to-action is fulfilled, and where the prospect submits information that your sales team can use to begin a conversation with them. When website visitors fill out a form on a landing page, that visitor becomes a contact (a lead).
Contacts: It's very important to keep track of the leads you're converting in a centralized marketing database. Having all your data in one place helps you sort and analyze every interaction you've had with your contacts — email, landing page, social media or otherwise — so you can optimize your future interactions to more effectively attract, convert, close and delight your buyer personas.
Want to Learn more about Inbound Marketing?
I recently wrote a white paper explaining how to "do" Inbound Marketing where I covered:
The data: How today's consumers are shopping for solutions and answers to their questions
The process: How marketing should change its processes to capture searchers
The tools: How to initiate the Inbound Marketing journey for your business
This might be very helpful as you contemplate Inbound Marketing for growing your company. To download my white paper, click on the button below.
Simon Associates is all about helping organizations grow, change and thrive
To talk with us about how Inbound Marketing could help your business grow, contact us at your convenience.