Believer in Blue Ocean Strategy®
Blue Ocean Strategy preaches that finding unmet needs is a critical element to continued organizational success. So, if you are a big believer in Blue Ocean Strategy, like I am, here are two companies that very successfully solve unmet needs.
The first is Warby Parker that provides extensive eyewear selection via the web. I am a user of their website, which lets me select exactly what I want in glasses at a reasonable price point. No longer do I have to settle for whatever my local eyeglass retailer has in stock.
I am also user of Harry's, an online razor blade and grooming company. Great products that eliminate hassle. Best of all, I don't have to suffer the inconvenience of shopping at a drug store or supermarket for razors.
The same guy co-founded both companies
Imagine my surprise when I picked up the November 2, 2018 Business Section of the NY Times and found out that the entrepreneur behind both businesses was the same person. Yes, Jeff Raider co-founded both Warby Parker and Harry's. That's pretty neat. And while I am not sure if Mr. Raider is a "card carrying" Blue Ocean Strategist, he certainly understands the underlying concept of a finding Blue Oceans.
Mr. Raider's first company was Warby Parker, a direct-to-consumer eyeglass frame company. Important, you bet! Think about when you last entered an optical center. Remember looking at the "limited" choices you had? I am always reminded that retailers have limited space and consequently limited available options. For me, most of the time I felt I had to settle with my eyeglasses purchase. And settle I did. Plus, I was always annoyed when I would see someone wearing the frames I wanted! Like many consumers, I don't like to settle.
Let's circle back to behavior. And while I believe that fashion is in the eye of the beholder, Mr. Raider must have observed that people don't like to settle on fashion. He also must have discovered that providing a large selection was a consumer benefit and being online as well as brick and mortar would allow him to provide many styles…because he created a very large national market…not just local. Sounds great so far but I was a little concerned that the glasses might not really look good on me or even fit.
But wait! Warby Parker resolves another issue.
An omni-channel market
While I thought that Warby Parker just sells online, it is really omni-channel with 86 retail locations in 30 U.S. states and two in Canada. For me, this eliminates the fear of purchasing a product and discovering it doesn't look good on me or is just a bad fit.
So, what do I do? Just take the train into NYC, get off at Grand Central, go to the Warby Parker store there and try on a frame style. Right in the train station! That allows me to feel good about how I look and how the glasses fit. Then I order the frames and lenses there in the store and they ship them to my house.
What a great idea. What a great solution to an unmet need. What a Blue Ocean!
Making grooming easy
The second company Mr. Raider co-founded was Harry's. Again, understanding unmet needs, he and his fellow entrepreneur Andy Katz-Mayfield created a high-quality razor and accessories products that are sold online. (Recently, Harry's has expanded with a line of women's products, too.) This has made it particularly convenient for me. Along with other men, going into a drug store or a mass merchandiser to purchase razor blades is not what I want to do. Online suits me much better. And the product is great! Harry's sends me enough blades for two months and automatically reorders for me.
Is Jeff Raider unique?
Can everyone do this, co-found two separate billion-dollar companies? I suspect not. Being an entrepreneur is never easy. And starting a complicated business from scratch is hard. But most entrepreneurs have a vision. (In the NY Times article, Raider talks about coming up with the idea with his friends to sell eyeglasses online, going home that night, not being able to sleep, emailing his friends at 1 a.m., not being able to stop thinking about it.) Not everyone can do this.
But what Raider did—implemented a Blue Ocean Strategy, even though he might not have recognized that—has allowed him to build two highly successful businesses.
I believe that based on how his mind works, this will not be the last unique, category-establishing business he starts.
Working with Simon Associates Management Consultants
At Simon Associates Management Consultants, we work with a lot of entrepreneurs or up-and-coming entrepreneurs, using our proven techniques—Blue Ocean Strategy and others—to help them break out of the mold. We get them to go visually exploring and show them how to develop innovation through observation by using the tools and methods of anthropology. You must "see, feel and think" differently if you are going to be an entrepreneur…a Blue Ocean developer.
We also tell people that the more ideas you have, the better chance for success. And once you have those ideas, you must test, test and test.
How to launch your big idea, step-by-step
If you're an emerging entrepreneur, we map out the steps you'll need to get your big idea on its way in our E-Book Primer for Entrepreneurs. It's free and you can download it here: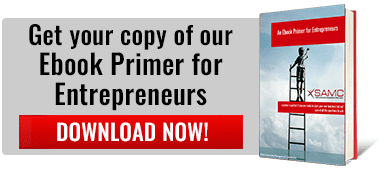 Maybe you need a better process?
Perhaps you have an entrepreneurial venture you want to launch but you're not sure where to start. To help you map out a sound developmental process, check out our 6-Step Process for Entrepreneurs.
And to learn more about finding big ideas, take a look at these 3 blogs:
Maybe we can help you find your Blue Ocean Strategy?
If you would like to discuss how a Blue Ocean Strategy or innovation workshop might be helpful for your organization, we would love to speak with you. Please contact us so we can get started. 
From Observation to Innovation,

Andy Simon
Partner, Simon Associates Management Consultants
Info@simonassociates.net 
Don't miss a single episode of our On The Brink podcast!
Subscribe now