In March of this year, 2019, I made a presentation to the Society for Applied Anthropology entitled "Anthropology Applications for Business." It was a fantastic experience and gave me the opportunity to talk about my two favorite topics—anthropology and business—and share how we at SAMC apply anthropology to our corporate, business, healthcare and non-profit clients.
I'll summarize the key points here but you can watch and listen to the presentation in its entirety by clicking on the image below.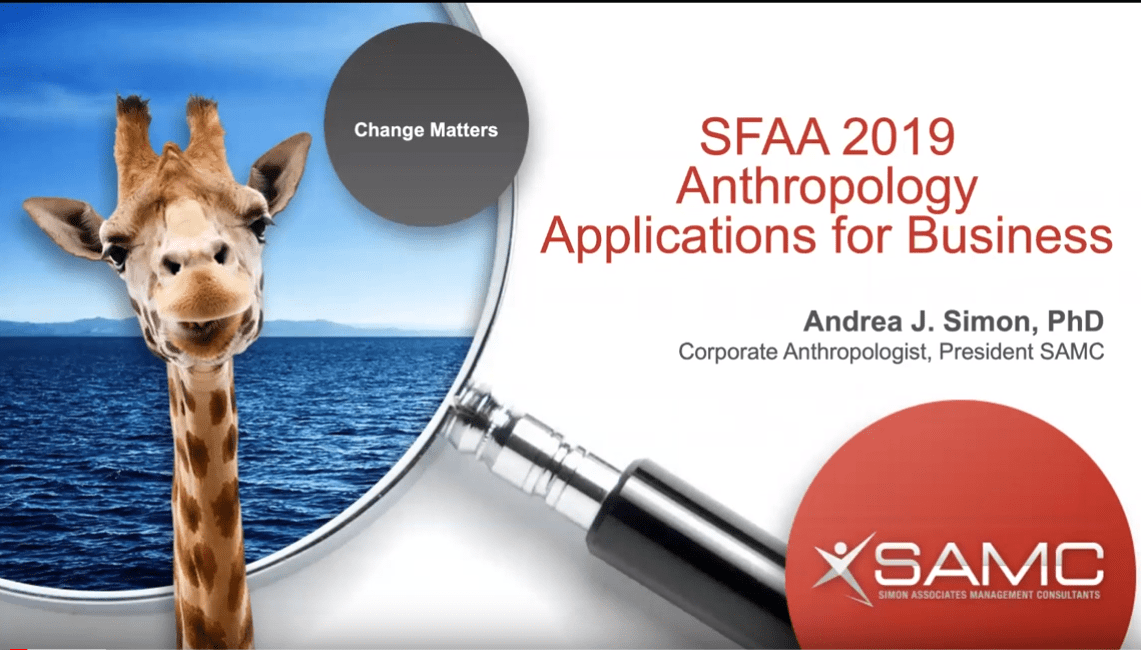 Change creates pain in the brain
Companies come to us when they are in a crisis or see one coming. In fact, we've built our business around helping stalled organizations change. As we know from the neurosciences, our brains hate change, they fight it. That's why at SAMC, we've developed an anthropological approach which enables us to evaluate how organizations operate today (obstinate brains and all) so we can better help them change for the future. 
After many years of doing culture change and change management work, what we've observed is that C-suites often ask for good research and then discount what that researcher, often an anthropologist, brings to them. Instead, we try to get C-suite leadership to do a little anthropology research themselves, to step out and take a fresh look at their own organization.
This is the essence of what we do at SAMC: we teach people how to see their business with fresh eyes. We take our clients out with us to observe. We have them sit on their factory floor, or listen in on their call center phone lines, because this is how, and when, those important "a-ha" moments come.
Understanding organizational culture is hard. Changing it is even harder.
In order to implement meaningful change inside your business, you need to look inward and evaluate your current culture. Only then is it possible to determine where you want to go from there and create a strategy that can help you reach your destination.
Why is culture change so challenging?
Changing an organization's culture means changing the essence of who people are. Keep in mind that their personal identity comes from their culture, and shifting that is scary. So how can a culture actually change? Here are four key things that need to happen:
Mimicking: I will change if I see my leaders, colleagues and staff behaving differently.
Understanding: I will change if what is being asked of me makes sense.
Skill development: I will change if I'm given the opportunity to learn a new way of doing things.
Organizational change: I will change if I see the organization's structures changing.
You can change. It just requires a process that opens your mind to what you are not seeing today. Take a look at my presentation and give some thought to just "hanging out" with your staff or your clients in order to really understand what they are thinking and how you can adapt to better help them, and you, thrive.
These are fast-changing times. We are often without the tools to help us know what those changes mean for us, individually and for our organization. A little anthropology might be just what you need to get that fresh perspective—and even begin to enjoy the changes before you have a crisis, or create one.
For more on how anthropology can help businesses change, we recommend these blogs, podcasts and white paper:
Could you perhaps benefit from a "little anthropology"?
At Simon Associates Management Consultants, our specialty is helping organizations accept, prepare and adapt to change. Applying the tools, methods and principles of anthropology is one of the primary ways we do this. We invite you to contact us to discuss how our team of specialized corporate anthropologists and culture change experts can work with you so you and your business can overcome today's challenges and soar. We look forward to hearing from you.
From Observation to Innovation,

Andi Simon, Ph.D.
Corporate Anthropologist | President
Simon Associates Management Consultants
Info@simonassociates.net
@simonandi
Don't miss an episode of our On The Brink podcast!
Subscribe now