Having a robust social media presence is really a critical element in the development and execution of an inbound marketing strategy. But it is not always easy…particularly if you have limited resources and too many things to do.
How important is social media and why should you pay attention to it?
Let's start with some data generated by HubSpot…our Inbound Marketing platform. And while the data is two years old, it is still very valid.
84% of B2B marketers use social media in some form.
80% of US social network users prefer to connect to brands through Facebook…which means that it is a powerful tool to accompany organic search and pay per click.
Research shows that compared to traditional outbound marketing, Inbound Marketing with a strong social media component delivers a 100% higher close rate on product sales.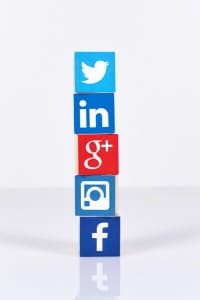 If you buy into this data and the importance of social media, this means you probably are going to have to do more of it than you are currently doing. It also means you are probably going to have to do it without any additional resources, so you will need to pick and choose carefully. Tough decision: making time. And while I can't tell you exactly what to do, for us at Simon Associates (SAMC) and for most of our clients, we have the same issues…too much to do and not enough resources.
A continuously-refreshed social presence is key
So let me set the stage. At SAMC, we provide consulting services around change, culture change, branding and inbound marketing, so our target audience is generally made up of CEOs or CMOs. We compete for services in the B2B world and in general, our potential clients are seasoned executives who have a problem(s) and need to change.
Using best practices, we have developed personas to identify our ideal prospective clients and their characteristics. Because we have a limited number of clients, and they seem to be in the Boomer category (or close to it), we believe we can pare our list of social media vehicles. We've identified four which we believe strategically cover our social media base: LinkedIn, Twitter, Facebook and YouTube.
And because we believe new content—that informs—is king, we have an active writing program that provides our outlets with new material continually. We write original blogs but also repurpose previously published ones, across the entire spectrum of our social media vehicles. Since all content and social media has a limited life, we have learned how to take the best of what we have produced, make minor modifications and use it again. Furthermore, we take 1200-1500 word blogs, break them up, and turn them into multiple social media posts.
We also tweet and use Bitly (to shorten long urls) so that our Twitter followers can easily access our content.
But what about YouTube?
We find YouTube to be a powerful tool for our B2B and B2C services. Here, our approach is a little different. We actually produce short YouTube videos and then write a blog around each one. So I guess you can say we go back to front instead of front to back.
New tools for the new age
So that's how we look at our business. And for that matter, our clients' businesses. Time consuming? You bet! But we are a HubSpot agency and using their platform is very efficient and effective. (While I am writing this blog on New Year's Day, I have also used the HubSpot platform to publish and schedule about a dozen tweets.)
Growing up in the old outbound marketing environment has forced us all to develop new skills as we have had to adapt to today's new ways of communicating. And these are forever changing. However, if you would like to talk about what Inbound Marketing and social media can do for you and how SAMC could assist, we would be happy to engage in a conversation. Please contact us at your convenience for a free consultation.
And happy social-izing!