For many years, we have been working with colleges, universities and higher education associations, primarily conducting Blue Ocean Strategy® workshops and implementing branding and marketing strategic plans. And what we've been seeing lately is that academic leaders are finally realizing that they can no longer wait for their students of the past to return. More and more, they're waking up to the fact that if they don't start implementing innovative, radically new ways of doing things, they may not have a way forward in the not too distance future. In short, they know they have to change.
Therefore, as change experts, we thought it would be very timely to share some of the major developments we're observing in higher ed and the impactful and fruitful ways in which several institutions are embracing change.
Higher education today is at a crossroads.
All around the country, colleges and universities are facing more challenges than at any other time in their history. For starters, they must serve a variety of students, from academically gifted high achievers to those unprepared for the rigors of college. In addition, what used to be the traditional student—ages 17 to 24—now only makes up 15-20% of enrollment. The other 80-85% are post-traditional students, and these are not ones seeking only non-credit certificates. They are a huge market with their own unique needs.
Indeed, as the Postsecondary National Policy Institute explains, they are a "diverse group of adult learners, full-time employees, low-income students, students who commute to school and working parents. In general, post-traditional students have one or more of the following characteristics: they delay enrollment in college after high school, they attend part-time for at least part of an academic year, many work full time while also enrolled in school, are financially independent, or they have dependents (spouse and/or children)."
This graph from Today's Learner captures the declining enrollment by sector: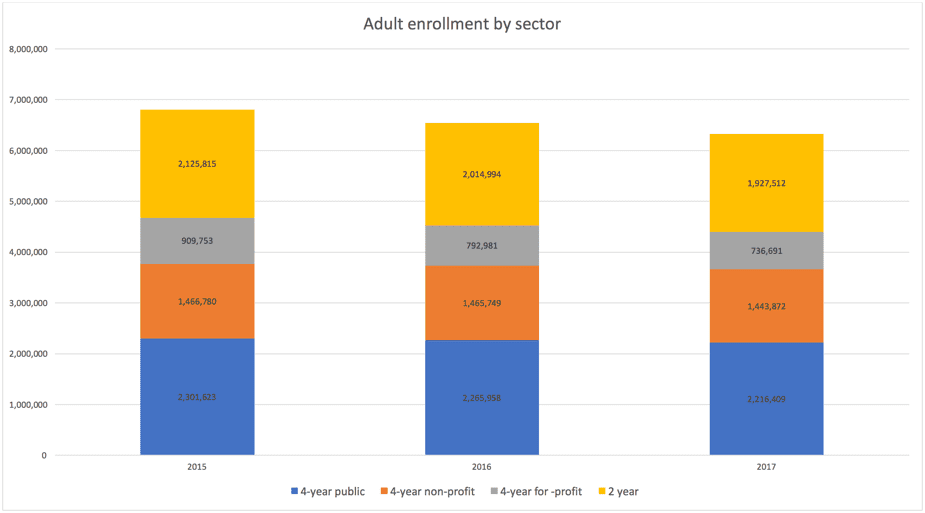 Almost everything is different today, and the old ways no longer work.
New technologies are reshaping our world, fast, and colleges and universities must adapt (or be left behind). They need to prepare their students for the job market of the 21st century, not the 20th. Many of the last century's jobs will disappear over the coming years, and many more haven't even been created yet. What does this mean for higher ed?
A lot of the curriculum will need to be reshaped.
New fields of study will need to be created and existing ones will need to be expanded. Examples include new media, w-gaming, the Internet of Things (IoT), blockchain, autonomous vehicle engineering, AI, the exploding field of biosciences, new environmental technologies, and on and on.
Add to this constant blowback from parents, students and political leaders about the soaring cost of higher education, which in turn is leading many institutions to push for increased efficiency, better performance and more opportunities for innovation.
There's no shortage of learning needs, just an entirely new way to learn.
It's going to be life-long learners who drive higher ed's transformation, along with their employers. The job market is already demanding that colleges need to better prepare their students for real-market jobs, and higher ed seems to be getting the message. (If they want to stay in business, they have to.) They have little time to adapt, and a lot to learn about how to change.
The good news is that out in the field, we see progress and real efforts to change.
Below are several colleges that have managed to tackle, not avoid, the challenges coming at them. They are learning how to utilize innovation to their advantage to benefit the students they serve. They are seizing the moment, capitalizing on the chaos, and in so doing, are finding successful ways to open new markets. The institutions we cite below are very "Blue Ocean" in their approaches in that they are creating new value in highly innovative ways.
HARRISBURG UNIVERSITY, Harrisburg, PA 
Thanks to its healthcare and life sciences programs, Harrisburg University was named the STEM University of the Year by the UK-based Corporate LiveWire as part of its 2018 Healthcare & Life Sciences annual awards. Harrisburg received this award for its global reach and its innovation in the teaching, delivery and research of its healthcare and life sciences degree programs.
With over 6,000 students from 103 different countries, Harrisburg offers cutting-edge undergraduate and graduate programs in Techpreneurship and Advanced Manufacturing and Human-Centered Interaction Design. The latter's curriculum teaches both traditional and innovative solutions for existing products, new products and emerging technologies. Students are taught how to bridge the gaps between human-centered research, technology and design in order to meet real-world needs. The Techpreneurship program provides students with the know-how to fuel innovation and develop viable products. In addition, Harrisburg teaches IT professionals much-needed leadership abilities which they will need when they are promoted to management positions.
The results? Pretty outstanding. Over five years, Harrisburg University's annual revenue increased from $8 million to $80 million.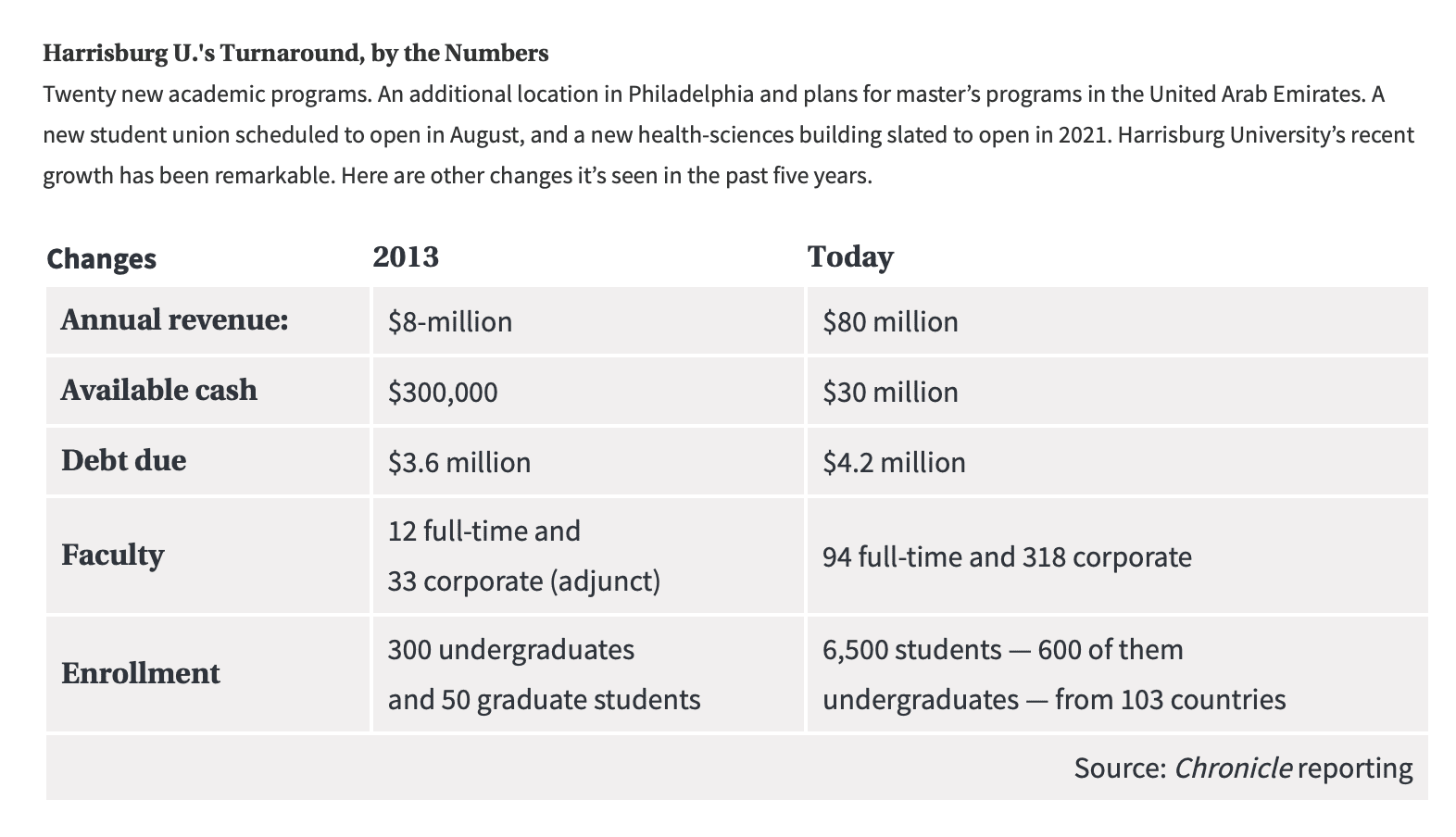 How did they do it?
By re-thinking everything, from how they in-source or out-source services to how they utilize online courses to teach skills and initiate programs needed throughout the state and the world.
By focusing on remaining agile yet staying committed to the importance of their STEM training.
By avoiding fixed costs by working with partners to provide housing, dining and custodial services.
By using outside firms for their marketing.
Most importantly, by fostering a "startup mentality" regarding mistakes and fail-fast to speed up new programs.
SINCLAIR COMMUNITY COLLEGE, Dayton, OH
Starting in 2000, Sinclair Community College's overarching mission has been to boost student success. Since then, it has initiated over 100 completion-related projects, including mandatory student orientation, informational presentations in local high schools, and participation in Completion by Design which guides students toward graduation, credential transfer, and ultimately, meaningful work.
Sinclair's completion initiatives fit into seven categories:
student engagement
K-12 partnerships
teaching and learning
student orientation and advising
career exploration and workforce connections
student support services
streamlining the pathway to a degree
The major component of Sinclair's change process was to involve every department in focusing on increasing student completion. As a direct consequence, Sinclair witnessed a 75% increase in student success from 1999 to 2013. From 2013 to 2018, that success rate increased by another 76%.
A big believer in competency-based learning, Sinclair has harnessed the power of technology to create an academic environment where students can progress at a pace they can manage. It is also building a new student center based on the philosophy of a single, integrated experience for each student. "We want to make this as integrated a process as possible to make sure that when students are trying to further their education by coming to Sinclair, everything is under one roof and in one place," says Adam Murka, Vice President of Advancement. "We want to make that process as personalized to students as we can."
GEORGE FOX UNIVERSITY, Newberg, OR 
Ranked one of "America's Best Colleges" by U.S. News & World Report, George Fox University is also getting lots of attention for its Future State Project which is designing a Sandbox College, a concept where innovators from academia and industry come together to design the university of the future. In George Fox University's case, those co-innovators are big-name companies such as Nike, SpaceX and Microsoft.
In a Sandbox College, businesses custom-tailor courses that will generate the future employees they are looking for, and career-educated students can find a job on Day 1 after graduating. A brilliant win-win.
PURDUE UNIVERSITY, Lafayette, IN 
In 2018, Purdue University acquired the for-profit Kaplan University for $1 and incorporated it into Purdue Global. The agreement included Kaplan's 14 campuses, learning centers and 2,100 employees. Kaplan's estimated 30,000 students have also made the transition to Purdue Global, and are allowed to complete their coursework with the same instructors and with no interruptions. There is also a 45% tuition discount for Indiana State residents, as well as free tuition for Purdue employees seeking a degree.
What this means for Purdue is that it has now become one of the largest online degree granting networks in higher education.
ARIZONA STATE UNIVERSITY, Tempe, AZ
Arizona State University (ASU) has been named the most innovative university in the nation by U.S. News & World Report four years in a row…in fact, all four years the category has existed.
"This recognition is a reflection of ASU's outstanding students, faculty and staff and their innovative spirit along with their commitment to advancing knowledge to have a significant, societal impact," said Sethuraman Panchanathan, ASU's executive vice president of Knowledge Enterprise Development and chief research and innovation officer.
This recognition was no fluke. Rather, it was a well-deserved acknowledgment of the university's commitment to innovation, partnerships, a culture of groundbreaking research and helping students thrive.
Some examples of ASU's innovative, forward-looking culture:
Its Student Pavilion is a net zero energy building.
Joining forces with the Los Angeles County Museum of Art (LACMA), it created a first-of-its-kind, three-year program of coursework, mentorship and employment at LACMA or the ASU Art Museum. A similar partnership with the National World War II Museum allows students to take an online master's degree in WWII studies.
It is the first U.S. university to offer a virtual reality lab to online students, enabling them to manipulate DNA and perform dissections virtually.
Its Knowledge Enterprise Development program helps advance research, innovation, strategic partnerships, international development and entrepreneurship, and is one of the fastest growing research enterprises in the U.S.
By adopting these innovative, out-of-the-box approaches, these colleges and universities are leading others out of the past and into a very exciting future.
How about you? Are you ready for the future or running from it? We'd love to talk with you about your specific obstacles to growth.
For more on tackling the challenges of higher ed, we recommend these 3 blogs
And you might like this podcast
Ready to embrace change? Perhaps we can help.
At Simon Associates Management Associates (SAMC), we specialize in working with colleges and universities on innovation and change. As culture change experts, we have a proven track record of helping higher educational institutions of all sizes realign their business models to better prepare their students for today's marketplace. As well as the blogs mentioned above, we've written a number of other highly informative blogs on the subject; please let us know if they spark some ideas which you can apply to your organization.
We also invite you to contact us to brainstorm ideas on how we could work together to create custom solutions to overcome the challenges your business or higher education institution is facing. We look forward to hearing from you.
From Observation to Innovation,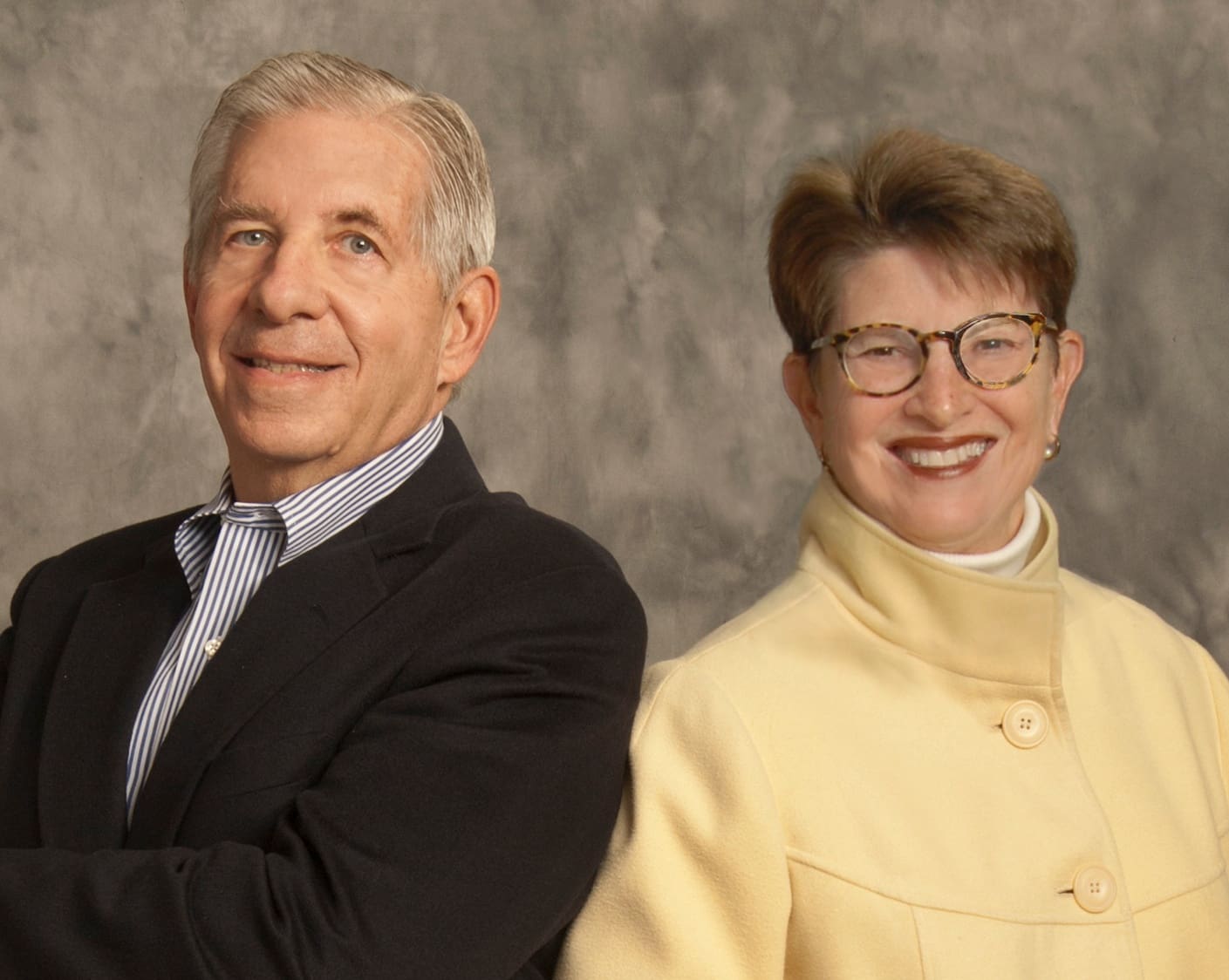 Andy and Andi Simon
Simon Associates Management Consultants
Info@simonassociates.net
@simonandi
Don't miss an episode of our On The Brink podcast!
Subscribe now