At Simon Associates Marketing Consultants (SAMC), we have been Inbound Marketing/HubSpot partners for three years. What I would like to do in this blog is present a case study to articulate why we believe that Inbound is a very effective vehicle for successfully marketing any organization—in this case, a pediatrics practice. Of particular importance is how to build a brand's online presence.
How to use Inbound Marketing to build brand awareness, attract users and measure progress
SAMC has been deeply embedded in healthcare marketing for several decades, working with a wide array of healthcare clients across the country, including hospital systems, physicians' practices, ACOs and health information management clients.
Three years ago, we were engaged by a multi-specialty practice that wanted to give its pediatricians more visibility and establish a real brand presence in the marketplace for its twelve pediatric offices.
Firmly believing in the power of Inbound Marketing, we began to build a brand identity and consumer awareness of the pediatric practice and its pediatricians, following these 5 specific principles:
1. Establish a "Why You." The first question we always ask our clients is, "Why you?" To figure that out, we spoke to the pediatricians, staff and parents of patients to learn what set the practice apart. This enabled us to establish a unique brand positioning to separate it from the herd. This brand positioning and its associated promise was critical to our messaging on the website and in social media, and could be communicated and reinforced by targeted and continuous blogging. Additionally, we crafted a single "voice" in which the pediatricians would speak to patients, parents and each other.

2. Develop a content marketing strategy to tell the "Why You" brand story, knowing that search engines like new and continuous content. Google rankings are crucial to establishing a brand presence. Therefore, identifying strategic keywords connected to the brand identity and then creating highly relevant content incorporating these keywords are critical to ranking. When parents use search engines to find doctors, locations or symptoms, they use keywords. This is why having high keyword rankings is so important to getting our client's pediatric practices—and your business—"found."

3. Go where you customers are going. Our pediatricians knew that parents and their kids are all on social media. So where should the practice be? Which outlets would be the most effective? Remember, digital marketing is more than websites. Yes, you definitely need a robust website but it should exist in combination with social media and other outbound marketing activities. All of these working in concert help nurture parents and patients and enable them feel that they are part of something important and relevant. That's also how you get viral endorsements, which are of major importance today.
4. Engagement is key. Perhaps this is part of point 3 but it is so important that I wanted to give it its own point. To be successful, you need to always keep in mind that you are building engaged relationships. That's why it is essential that everyone in your organization is committed to "living the brand." In our client's case, this had to be part of every patient encounter. Social media helps but if you are not making the brand promise come alive at every touch point, it won't work.
5. Measurement is essential. How do you know how you are doing if you are not measuring it? What are your goals and objectives and are you meeting them? Are you on target? What mid-course changes will you initiate to ensure your direction is correct? Metrics can come from both hard and soft data but you need to know which data will tell you the right story.

With these basic tenets as the foundation for our approach, how is our pediatric client doing several years out?
Website visits. If you can't get visitors to your site, what does it matter what information is presented there? Here at SAMC, what is most measurable and therefore most important to us are visits that come from organic search. Is your content capturing people who are searching for answers to their questions? What keeps them on your pages and gets them to read your information? For our pediatric client, the growth in website visits started out slowly and then soared:
2. Keywords. To build organic search, we focused on a content strategy that would improve keyword rankings. We started writing website and blog content focused on the most-searched-for keywords and soon saw the practice's search ranking increase by leaps and bounds. In creating this content, we asked ourselves: "How do we help parents and patients find answers to their questions? What are they asking? And how can we make sure our keywords are directly connecting them to our client's website solutions?" 
The chart below shows the keyword ranking gains over the past 18 months.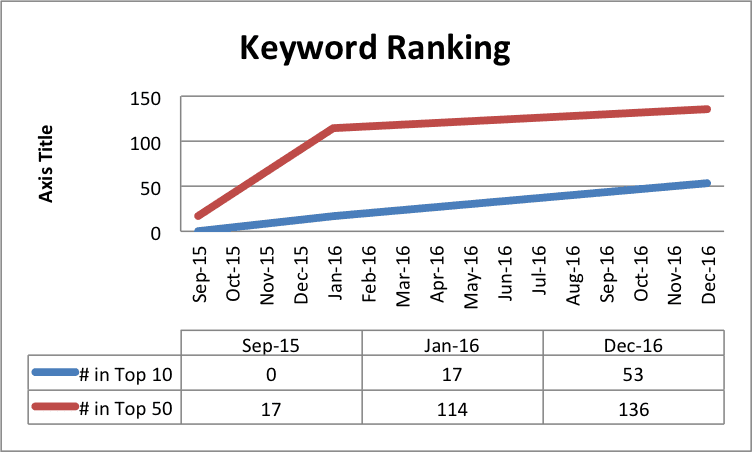 Since there is a direct link between keyword rankings and organic search, this next chart shows how site visits via organic search increased by almost 300% over the same period.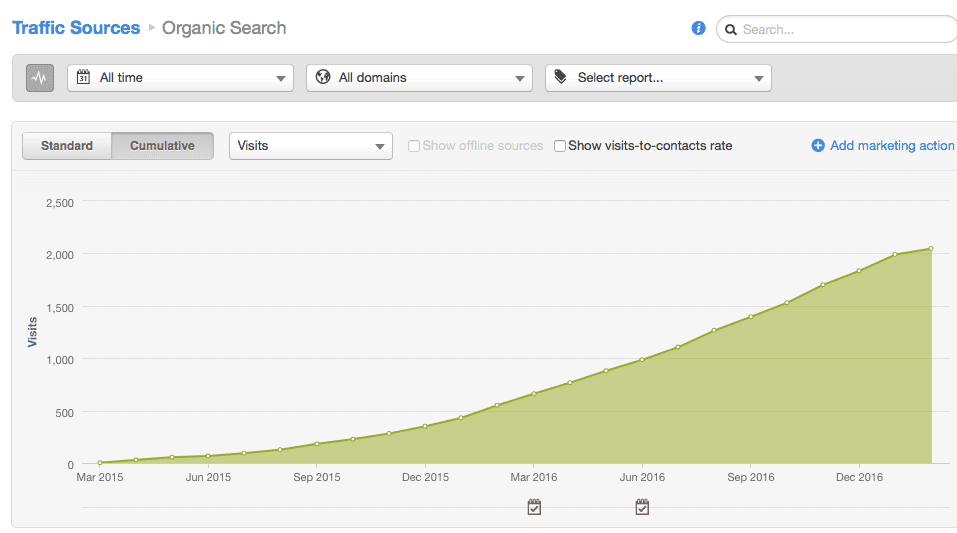 3. Social media engagement. There are a number of social media vehicles that help build a brand presence. For SAMC, we have found that LinkedIn is most effective. However, for the pediatric practice, Facebook has proven to be the best tool to attract and nurture parents of patients.
As well as weekly publishing original Facebook content, we also repurpose the pediatric website's pages and blogs and post them on social media. This is an effective and very efficient way to continuously provide search engines with new content, which in turn helps the rankings.
Lastly, and maybe most importantly, liberally using social media has enabled us to develop a fan base for our client that continues to grow over time. The advantage to this strategy is that it both reinforces that existing parents and patients are happy with our client's pediatric practice and also gives new, potential customers an opportunity to "try them" in a non-threatening, non-binding way.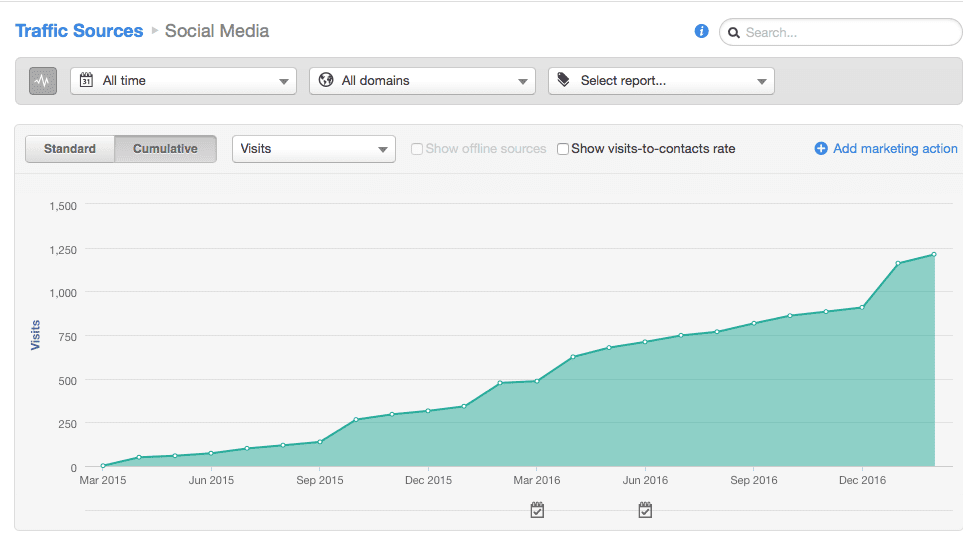 Facebook followers have grown substantially over 2 years, starting at zero and growing to more than 3000.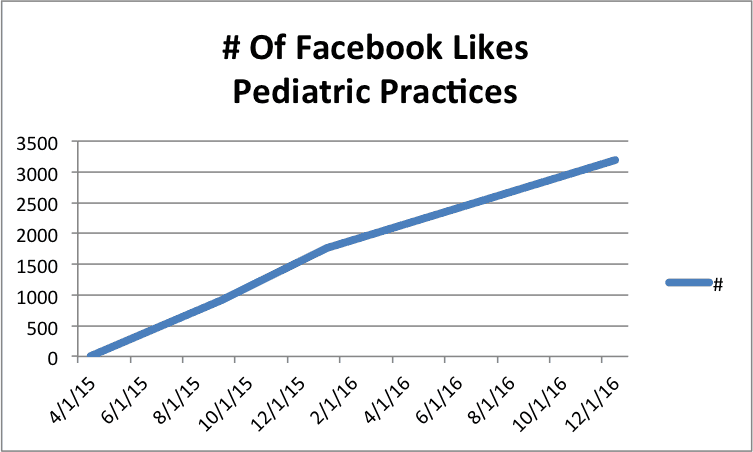 4. Content must be strategic and frequent. Over the three years we've worked with this client, we've encouraged the pediatricians to write blogs that can be converted into social media posts. In some cases, they do the writing and we edit. In other cases, we write and they review. It really doesn't matter as long as the voice and the tone are the same. We also maintain a rigorous posting schedule, publishing at least one new blog a week.
5 things to consider to get the most out of Inbound Marketing
Inbound marketing strategy and tactics are grounded in the platform that Google has established for building presence in the online world.

Your marketing strategy must be driven by a keyword-focused content approach.

This requires that you continuously post relevant content in the form of blogs, videos, social media posts, emails and visual materials.

This frequent messaging enables both current and potential customers to be educated, informed and engaged, all of which will lead them along the buyer's journey (commitment path).

Your focus should always be to answer the questions of your audience. You must become the authority, the place they go for answers and information.
Want to know more about Inbound Marketing? Download our white paper.
Inbound marketing focuses on creating quality content that pulls people toward your company and product where they naturally want to be. This white paper will show you how to attract inbound traffic which you can then convert into customers. 
You might also find this blog to be of interest :
And if you would like to know more about our healthcare and/or inbound marketing experience and how we can build a presence for your company, please contact us at info@simonassociates.net. We look forward to hearing from you. 
Andy Simon, Partner
Simon Associates Management Consultants