Are you a physician's practice trying to attract new patients? A hotel chain needing to tell your story so consumers will choose you rather than your competitor? Or maybe an

IT firm searching for the best ways to broadcast your new hours, new hires and additional services? Higher education — all those colleges and universities — are continuously searching for the right students to fill their classes.
What to do? The answer to all of these? Inbound Marketing.
Inbound Marketingis the best way to turn "searchers" into customers and then promoters of your business
To run a business effectively, whether it's manufacturing, service-oriented or healthcare, you want to attract the people, or prospects, who want the solutions you are offering.
In today's digital age, consumers no longer wait for marketers to push out information the old-fashioned way about their services or solutions (outbound marketing). Instead, they search online for answers to their questions and solutions to their problems (inbound marketing) — and you'd better be there, high up in the search rankings, or you'll quickly get lost in the shuffle.
Attracting interested buyers in an "inbound" rather than "outbound" way is the essence of inbound marketing.
The key to Inbound Marketing: Offering consumers high-quality content they can use
Instead of the old outbound methods of "interrupting" people with ads, flyers, billboards and emails and hoping that somehow they turn into leads, inbound marketing focuses on creating quality content that pulls people toward your business, where they naturally want to be. By aligning the content you publish with your customers' interests, you naturally draw inbound traffic which you can then guide through the 4-part buyer's journey: 1) Attract, 2) Convert, 3) Close, and 4) Delight.
The nuts and bolts of Inbound
The four steps of a successive Inbound Marketing strategy are illustrated in the graph below, created by HubSpot (the marketing platform we've fallen in love with at SAMC because of the phenomenal success we've seen with our clients who use it).
Along the top are the four actions (Attract, Convert, Close, Delight) which a business must take in order to obtain visitors, leads, customers and promoters. Along the bottom are the tools to use to accomplish these actions.
The big idea: By creating content specifically designed to appeal to your dream customers, inbound attracts qualified prospects to you and keeps them coming back for more. Inbound is the way you can tell your story, promote your services, tout your cutting-edge technology and expertise so that "searchers" become loyal customers who talk glowingly about you to the world.
How to make Inbound Marketing work for your company
By publishing the right content in the right place at the right time, your marketing becomes relevant and helpful to your current and potential customers, not interruptive. Here are the major themes which, if followed, will revolutionize your presence in your particular market space:
Content Creation + Distribution: Create targeted content that answers prospects' and customers' basic questions and needs, then share that content all over the place (Facebook, Twitter, Tumblr, Instagram, etc).
Lifecycle Marketing: Customers don't just materialize out of thin air — they start off as strangers. Specific marketing actions and tools help to transform those strangers into promoters.
Personalization: Tailor your content to the wants and needs of the people who are viewing it.
Multi-channel: Inbound marketing is multi-channel by nature because it approaches people where they are, in the channel where they want to interact with you.
Integration: Content creation, publishing and analytics tools all need to work together.
The 4 Inbound Marketing actions: Attract, Convert, Close, Delight
There are four steps in the buyer's journey as the typical consumer goes from stranger to enthusiastic promoter: Attract, Convert, Close, Delight.
In this blog I'll discuss Step 1: Attract and tackle the other three in subsequent blogs.
1. Attract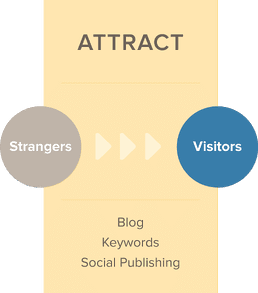 You don't want just any traffic to your site, you want the right traffic. You want the people who are most likely to become leads, and, ultimately, happy customers. Who are the "right" people? Your ideal consumers, also known as your buyer personas, who encompass the goals, challenges, pain points and demographic information around which your whole business is built. Some of the most important tools to attract the right users to your site are:
Blogging: A blog is the single best way to attract new visitors to your website (and a vibrant, constantly fresh website is crucial). In order to get found by the right prospective customers, you must create educational content that speaks to them and answers their questions.
SEO: Your customers begin their buying process online, usually by using a search engine to find something they have questions about. So you need to make sure you're appearing prominently when and where they search. To do that, you need to purposely pick keywords, optimize your pages, create content, and build links around the terms your ideal buyers are searching for. Are they searching for a mid-priced restaurant? Do they want information on snow tires? Is their mother showing signs of Alzheimer's? Do some digging and find out what they're searching for.
Webpages: Your website pages are your digital storefront. Optimize your website to appeal to your ideal buyers and transform your website into a beacon of helpful content to entice the right strangers to visit your pages. Again, what problems are your potential patients searching for answers to?
Social Publishing: Successful inbound strategies are all about remarkable content. Social publishing allows you to share that valuable information on the social web, engage with your prospects, and put a human face on your brand. Discover where your ideal buyers spend their time and establish a robust presence there.
Out with the old, in with the new
Yes, Inbound Marketing empowers you to attract visitors to your business and convert them into loyal customers but it doesn't just happen, you do it. And you do it by creating, deliver and sharing content that will appeal to precisely the right people (your buyer personas) in the right places (channels) at the right times (when they're searching for solutions).
In my next blog, I'll cover Step 2 in the buyer's journey: Convert. Stay tuned!
To learn more about Inbound Marketing
I recently wrote a white paper explaining how to "do" Inbound Marketing where I covered:
The data: How today's consumers are shopping for solutions and answers to their questions
The process: How marketing should change its processes to capture searchers
The tools: How to initiate the Inbound Marketing journey for your business
This might be very helpful as you contemplate Inbound Marketing for growing your company. To download my white paper, click on the button below.
Simon Associates Management Consultants is all about helping organizations adapt and change to new times. We would love to help you learn about inbound marketing so you too can thrive.
To talk with us about how Inbound Marketing could help your business grow, contact us at your convenience. Or call us at 914-245-1641.