At the Forum for Healthcare Strategists in May 2016, I had the pleasure of hearing Jeremy Gutsche speak about how you — literally everyone — could become a better "hunter" capable of seeing new possibilities right before you. This reminded me of the quote by John Seely Brown: "The way forward is all around you." This kind of thinking is also at the core of the Blue Ocean Strategy® method that we work with. 
Are big ideas really right in front of you — in plain sight?
At Simon Associates Management Consultants (SAMC), so much of our work focuses on this same topic, that of "seeing with fresh eyes." Gutsche's ideas were a powerful reminder that it is hard work shifting people from doing what they have always done to doing it better, smarter, different. "More of the same but cheaper" isn't enough to sustain the growth of any business, yours included.
One story along these lines that is very much worth sharing is that of Trey Williams, an entrepreneur and restauranteur from Baton Rouge, who saw things that were right before him and then turned these "aha" moments into big ideas with huge results.
During the healthcare forum, I had a great dinner with Trey whom I had met the week before when I was in Louisiana. I wanted to learn more about how he went from being a successful commercial real estate broker to one of the most successful restaurant owners in his region — selling charcuterie (of all things) to folks in Louisiana, most of whom couldn't even pronounce the word! They love pork but charcuterie?! And how and why did he switch careers?
Finding a niche and then capitalizing on it
Trey's restaurant group specializes in creating unique, home-like products in three different culinary environments, cleverly appealing to a varied clientele. In just two years, the group's holdings grew from one restaurant — City Pork Deli and Charcuterie — to three, adding City Port Brasserie & Bar and City Pork Kitchen and Pie (where I dined in Baton Rouge) in quick succession.
Opened in December 2013, City Pork Deli and Charcuterie was named "Best New Restaurant" in 2014 by the Baton Rouge magazine 225, after just one year in business. That same year, it was also featured in several cultural, travel and tourism-based publications throughout the region. A gourmet sandwich shop, City Pork focuses its attention on producing house-made meats and unique condiments for its sandwiches. Another key focus has been its signature charcuterie boards featuring that day's specialty meats, artisanal cheeses and homemade pickles (quickly a customer favorite).
With an eye on expanding its business, the City Pork team opened City Pork Brasserie and Bar in 2014. Leveraging its made-from-scratch foods, this second eatery features appetizers, entrées, a full-service bar and, of course, City Pork's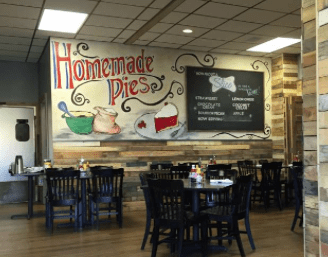 famous charcuterie boards. Whereas the Deli and Charcuterie is a fast-casual, order-at-the-counter café, the Brasserie and Bar is more of a full-service dining concept featuring everything from the classic "Big Pig" sandwich that made the Deli famous to creative dishes like "Rabbit and Dumplings" and "Shrimp and Boudin" (City Pork's spin on the Louisiana classic shrimp and grits). And, the open kitchen allows customers to interact with the staff while they dine, asking questions and educating themselves about the unique products on the charcuterie boards.
In 2015, the team opened the third jewel in their crown, City Pork Kitchen and Pie. Here it feels like "Momma" is in the kitchen and all of her sisters and brothers are taking care of you. Not surprisingly, Kitchen and Pie has become an instant hit, both with local workers in the Industriplex subdivision and discriminating diners all over Baton Rouge. I had a really good lunch there, lingering and watching the staff and the customers enjoy the food and the comfortable atmosphere. The experience was as keenly important as the plates were delicious.
So how can deer hunting turn into a Blue Ocean Strategy?
Believe it or not, Trey came up with his triple restaurant idea while deer hunting. Yes, really! As he tells it, he was an avid hunter who grew tired of sending his bagged deer to a "processor," only to get back sub-par meat and mediocre sausage. After he decided to try butchering his own deer, a simple Amazon search for books on "venison butchery" led him to other books on meat processing, sausage making and…charcuterie (a word he admits he'd never heard before). Around the same time, he noticed that there weren't any restaurants in Baton Rouge selling cured meats.
"Notice" is the key word here.
From these seat-of-his-pants beginnings, Trey's new venture began. He started experimenting with charcuterie in his home, bought a refrigerator specifically for curing meats, and even traveled to the Gascony region of Southern France to work with a family who raises pigs on their small farm, butchers them on-site, and produces 20+ different products for local farmers' markets. This 3-week crash course in butchery and charcuterie production gave Trey the base knowledge he needed to turn his newly-discovered hobby into a bona fide business.
Yet, key to Trey's fast-growing food empire has been the fact that he is an astute observer of trends. It was all in plain site.
And there's the difference. He and his original partner, Chase Lyons, realized early on that the Baton Rouge food scene was ready for something fresh. In other parts of the country, they noticed that people were beginning to pay more attention to where their food came from and how it was raised, slaughtered and prepared…in other words, people were demanding "real food." And that's precisely what Trey's three establishments are giving them, to great acclaim.
Are you ready to go hunting, too?
Not everyone can see what is right before them. When embarking on a Blue Ocean Strategy, you must be willing to go visually exploring with a big open mind that allows you to actually see things that your brain may be discounting. Often the ideas come in strange ways through different channels. But the more ideas you have, the more likely you will have great ones — you just don't know which ones will turn into profitable businesses.
So what's the secret? Go exploring. Even hunting. Open your eyes. Then see what emerges from your exploration. Above all, have fun doing it!
Do you have an "aha" moment that turned into a great business?
Want to share it? Send it along and we can set up a time to talk. At SAMC, we are constantly searching for people who find things in plain site and then turn them into great success stories. Maybe you're next!
There are seven great stories in my book, "On The Brink: A Fresh Lens to Take Your Business to New Heights." Take a look and then tell us about yours. You can email us here.
Or download the first chapter free!