Recently, we gave a workshop to several dozen CEOs who had less than stellar years. They had their strategic plans in place and tactical actions laid out. Now they were ready to see how their strategies were working for them — or not.
While they could each explain why results were not as strong as expected, what began to dawn on them during our workshop was that part of the problem was their strategy. In each case, it needed to be reviewed and reworked in order for their businesses to get going again.
Need business growth?
At Simon Associates Management Consultants (SAMC), we specialize in Blue Ocean Strategy® thinking and in working with companies to redesign their business strategies. Blue Ocean Strategies help companies find unmet needs and add value in innovative ways so that they are not just "another business solution" but the "only solution." (At least for awhile until others catch up.)
As trained Blue Ocean practitioners with over 350 workshops and dozens of client engagements under our belts, we help companies see how a new approach — Blue Ocean style — can lead them to find new untapped markets awaiting their solutions. Exploiting these untapped markets then leads to business growth, the ultimate goal.
To learn more about Blue Ocean Strategy, visit ourwebsite or any number of our blogs or white papers on the topic. Here are three blogs to get you started:
So, what is Blue Ocean Strategy?
Blue Ocean Strategy is a theory, method and toolkit developed by W. Chan Kim and Reneé Mauborgne and outlined in their breakthrough book, Blue Ocean Strategy. First published in 2005 then republished in 2015 with new information, it has become the core approach we use with our clients, many of whom are literally "on the brink" before getting unstuck and moving ahead in new directions. (You can read more in my book, "On the Brink: A Fresh Lens to Take Your Business to New Heights.")
What are the most important Blue Ocean Strategy tools?
If you're ready to rethink your business strategy and discover opportunities that are often in plain sight, you're ready to find your Blue Ocean Strategy. Here are the 5 most important tools that are really keys to crafting and delivering on a Blue Ocean Strategy:
Strategic Canvas: The first step in evaluating your current investments and competitive positioning (your value curve) is to use a strategic canvas. The example below is for Polo Ralph Lauren t-shirts.
When compared to its major competitors, Polo was very much the same as Tommy Hilfiger. The only sector where they were more highly invested was in online sales — or at least that's what they thought. If they were going to be more than "just another designer t-shirt," they were going to have to Eliminate and Reduce some things and Create and Raise others. From this would come an entirely new positioning and a strategic canvas that would reflect that shift in investment, focus and point of difference.

Who are your nonusers:

 This tool represents a way to think about your potential new markets: those nonusers awaiting your solutions.

First-tier nonusers: First-tier nonusers are closest to the existing market. They are the buyers who minimally purchase an industry's offering out of necessity but are mentally nonusers of the industry. What is most important is that if they are offered a leap in value by you, not only would they stay with your new solutions but their frequency of purchases would multiply, unlocking enormous latent demand. Think of them as "soon-to-be" customers. So, take a good look at your CRM and see who has bought just one product or service from you. Perhaps you are a tax accounting firm and you have focused your business on doing mostly tax planning, tax preparation and maybe some auditing. What else could your current clients use that you could provide? What are their pain points? Are you even asking them? Research what questions people type into search engines and how you could be the answer. (One of our clients grew his business 40% just by addressing current customers' unmet needs.)
Second-tier nonusers: These are people who consciously refuse an industry's offerings — buyers who have recognized these products or services as options to fulfill their needs but have voted against them. Think of them as people who never went to the circus — until Cirque Du Soleil came along. Or those who would rather walk than take a taxi — Uber is now making a fortune off of them. And Airbnb is capitalizing on nonusers of hotels. Who are your "refusers?" How could you open big, profitable markets by capturing them?


Third-tier nonusers: Third-tier nonusers are furthest from the existing market. They are nonusers who have never thought of a market's offerings as an option. These are "unexplored" nonusers. For example, how could Skype pull in new users who have never tried or never even considered trying their video and calling options? Who might be a perfect target of nonusers for your company?Write down your ideas about who could use but isn't, along these three categories:

As you consider the different types of nonusers consider their common needs. Regardless of what type of nonuser people are, there are commonalities they share that could create an entirely new market space for you. This is how you create a Blue Ocean of new demand. Try not to think niche. Think broad.

Visual Exploring:

 This is among the least discussed part of Blue Ocean Strategy. As anthropologists who specialize in helping companies change,  we at SAMC know that it is hard to ask nonusers: "What do you need?" Few people would thoughtfully tell you what they really need, the "go-around" solutions they have created or why they aren't coming to you to solve their problem. That's why we created our own Anthropology Toolkit to help our clients "go exploring." How can you better "see, feel and think" in new ways if you are stuck in your office?Ways to go visually exploring:

Take your staff, preferably at management level, out into the field to do actual observational research. You need to "spend a day in the life of your customers" and watch how they are solving their problems. Are they doing this by using your product? Hang out and just watch, listen and see where the pain points emerge.
Conduct culture probes. Give nonusers images or artifacts and have them build stories around these items that describe how they are solving a problem. It's very helpful to bring nonusers together (or you can conduct individual sessions) because they can help you build a prototype of a solution for them, a product or service that could really help them solve an unmet need.
Storytelling. These can be very powerful sessions where people tell you stories about how they get things done. From their stories can come important insights into their unmet needs, which can then lead you into new untapped markets (think Uber, Airbnb).
Observational research. Watch people doing things, from hanging out in malls to eating in restaurants to working on the shop floor to selling clients a product. Once you start observing, all sorts of great ideas — and those unmet needs — will emerge.

Four Action Framework: This is a very powerful way to re-focus your strategy and re-think your business strategy (not redirect your expenses).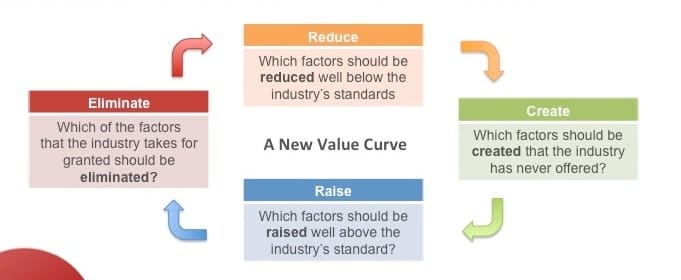 Remembering the strategic canvas (the 1st tool above), is designed to help you redirect your business to reach nonusers or new markets, what will you "eliminate" or "reduce"? What will you "raise" and most importantly "create" in order to add value + innovation? This is about re-focusing, re-packaging and re-imagining.
6. Buyers Experience Cycle: This tool is concerned with where and how people and companies search for a solution to their problem. From left to right on the horizontal axis (below), it maps out where and how they purchase a product, how delivery takes place, how they use a solution/product, how they find/buy supplements or maintain it, and how they dispose of it. 

Along the vertical axis are the key areas that you should consider to add value innovatively.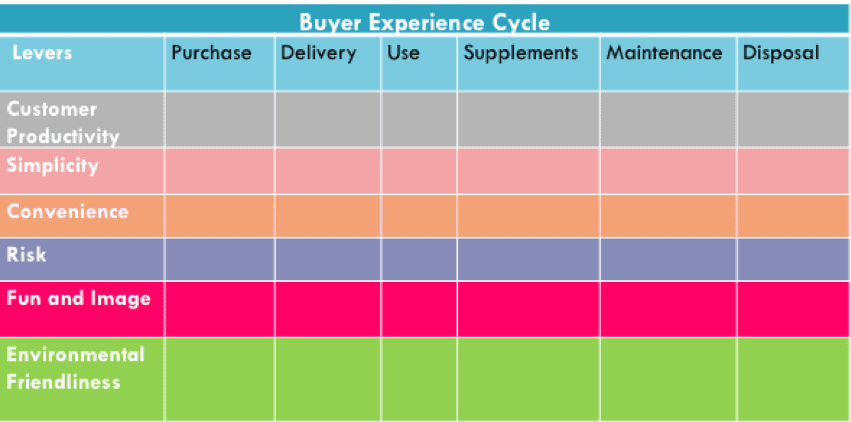 For your current customers, map out the buyer experience cycle as you believe it is today. Here are the key areas to consider as you seek to make:
The Customer More Productive — this might be a strong opportunity
Buying your Solution More Simple — simple sells better than you think
Using your Solution More Convenient — regardless of what you offer, convenience can be a big differentiator
Less Risk — take out or diminish the risk and you can add real value
Fun and Adventure — reverse what you know and see how you can add more fun and adventure across the Buyer Cycle
Environmental Friendliness — it does matter and it could open a big market space
Curious? Watch this video on how to rethink your strategy.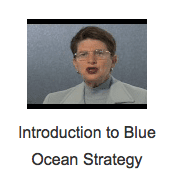 Or perhaps you would like us to conduct a workshop for your organization, in person or via Skype. Give us a call at 914.245.1641 or email us: info@simonassociates.net.
From Observation to Innovation,

Andi Simon, Ph.D.
Corporate Anthropologist | President
Simon Associates Management Consultants
Info@simonassociates.net
@simonandi