At Simon Associates, we do a lot of Inbound Marketing work with a number of clients across a variety of fields. So here I was this morning trying to get one of our clients to write blogs. Some get it…some don't…but irrespective, it's our responsibility to ensure that our clients get site visits and that they are viewed as authorities in their fields.
It all revolves around content, content, content
The basic tenant of Inbound Marketing is to provide your customers or potential customers with informative, continuous content. That's because freshly produced content is important to gain ranking from organic search. This reinforces our clients' authority with both their customers and potential customers.
But before writing content, we always start with a strategy that includes 1) developing a detailed persona (your ideal potential customer) and 2) understanding where that potential customer is along the buyer's journey.
After establishing the persona and the buyer's journey, it is then time to begin developing content. For our clients and also our own business, we use blogs as our primary delivery vehicle. Then we repurpose that content for social media. Depending on the client's particular needs, we use Facebook, Twitter and LinkedIn as our primary social media vehicles.
So what do I write about?
So here I am. I have developed a persona, I understand the buyer's journey and now I have to ask one of our client experts to draft some blogs. And invariably they always come back to me and say, "Ok, I'll write something but what do I write about?" That's a fair question, so what do I say or do?
Well, the first thing I do is think about keywords. For each of our clients, we compile a list of about 300-600 keywords…short- and long-tail (one-word and multi-word). We then create a report based upon: the keyword content we have already created, competitive analysis and general knowledge. So now that I have this report, how I am going to use it. And more importantly, what do I tell my client and how do I direct his writing…
To be valuable, your content should focus on keywords…i.e., what people are searching for
By the way, we use the HubSpot Keywords Report, which really comes in handy because it gives me three very important pieces of keyword information for blog writing: monthly searches, rank and difficulty. Generally, as expected, the higher the number of monthly searches, the more difficult it is to obtain a high ranking for that keyword. That's because everyone wants to maximize on first page ranking with high search volume.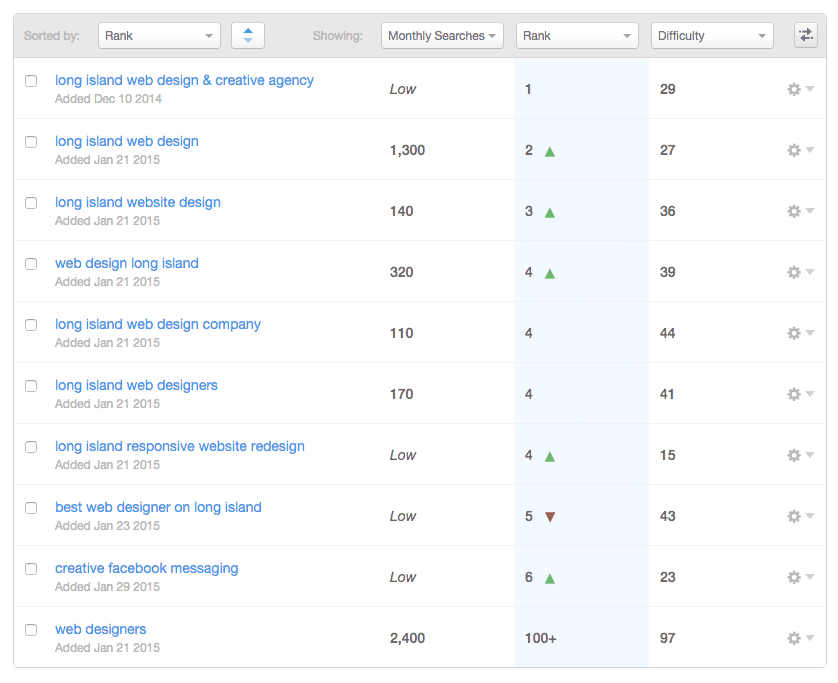 With that in mind, we generally like to follow a min/max strategy. We start by getting first page rankings on easy-to-rank keywords—short- and long-tail ones—but we also go after keywords that have higher volumes with more difficult ranking terms.
I'm happy to say, this strategy has worked very well for us. We launched a website for one of our clients in June. In September, we had 17 keywords in the top 50 ranking and zero in the top 10. At the end of October, we had 4 keywords in the top 10 and 67 in the top 50, and as of today, we have 18 in the top 10 and 120 in the top 50. And I am sure that one of the reasons we had this significant increase is because we blogged twice a week and consistently used all our social media outlets.
Moreover, while most of our process has been against high rank/low volume keywords, we continue to see ranking increase as we blog against higher volume/longer tail keywords. The proof of the pudding? Our organic search volume has increased 45% quarter to quarter.
So are there some lessons here? You bet!
There is nothing magic about Inbound Marketing and keyword ranking. It simply takes a lot of analytical effort to set strategies that make sense in a competitive environment.
And when you are done with that, it takes even more effort and discipline to write content against the strategy. Yes, we direct our clients to write copy and edit, but we often find that directing is not enough, so we have our own team of writers and editors who write against specific objectives.
Not everyone can be a great writer or editor but everyone can be disciplined and come up with a targeted plan to develop content against very specific goals.
If you would like to know more about Inbound Marketing strategies or content creation, please contact us at your convenience for a free consultation. We love to talk content, keywords and ranking!