For the past several years, I have written blogs about women in sports and their entry into the mainstream. You can find them here. I wasn't writing about women who have competed or participated in women's sports but rather, those women who have attained positions in what has traditionally been the men's bastion. These women have become refs, managers, or in some cases, even players in the male arena.
And here is another first! On the front page of the New York Times 10/27/22 Sports section, the headline reads: "A 'Landmark' as Women Will Coach Against Each Other in Men's Soccer." It describes two female head soccer coaches for two men's teams (N.Y.U.'s Kim Wyant and University of Chicago's Julianne Sitch). The article states, "A significant moment in college sports history will unfold on Friday when two men's soccer teams meet at little Gaelic Park in the Bronx  — not because of the teams involved, but because of who is coaching them." It adds, "It is believed to be the first N.C.A.A. men's soccer game in which both coaches are women." 
NEWS FLASH!! Julianne Sitch coached her men's team to the national championship
Julianne Sitch became the first female soccer coach to lead a men's team to an NCAA championship when the University of Chicago men's soccer team defeated Williams College 2-0 on December 3rd to capture the program's first national title. This capped an undefeated season under Sitch in her first year as coach, proving that women can coach champions.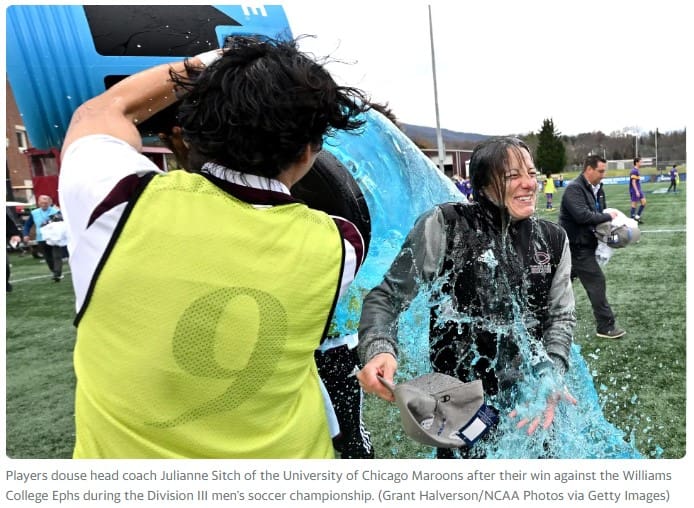 A real sea change in women's sports
Think about this statement. Why is this so important? Because women have always paid their dues yet never reached the ranks of a head coach for a men's intercollegiate soccer team. And now we have two! Two men's teams are playing against each other, directed by two women head coaches. Unthinkable — until now.
This "first" should not be viewed as a big PR event but as a natural progression. Both coaches started as top players in collegiate women's soccer, entered the professional soccer ranks, became assistant coaches, and finally, attained head coaching positions. They did not become coaches overnight; it took them years to move up the proverbial ladder. Yet here they are now, and we must not only take note but celebrate and amplify the story that their accomplishments signify.
That would have been impossible in the past, but not today. And while this is a unique event, I bet the two coaches are both excited and humbled by it. Sitch is quoted in the article as saying, "It has been very positive and very inviting, across the board."
Similarly, Wyant told the NYT at a recent N.Y.U. practice in Manhattan, "Players just want to know, 'Can I get better?' They are looking for a leader who is invested in the team. Do we feel respected? Whether male or female, if you can deliver all of those things, you can succeed."
And as one of Wyatt's N.Y.U. players says, "It's amazing to play for her….It was one of the perks of coming here."
Yet, women coaches are still firmly in the minority
According to the article, a "small number of women are coaching men in various roles at both the professional and college levels….But the instances remain rare, particularly in college sports, where male coaches far outnumber women, even in women's sports." It goes on to say, "Data published by the U.S. Department of Education shows that only about 5 percent of all men's college teams are coached by women, and the majority of those are in low-revenue, combined-gender sports like skiing, swimming and track and field. The data also showed there are no women in head coaching positions in Division I football, baseball, men's basketball and men's soccer, and only about 26 percent of Division I women's soccer coaches are women."
So, there is still more work to do before we reach true gender equality in sports. 
What led to this breakthrough?
In 1972, Congress passed Title IX as a follow-up to the Civil Rights Act of 1964. Specifically, it prohibits sex-based discrimination in any educational program that receives funding from the federal government. While this amendment did not explicitly mention sports, it significantly impacted high school and college athletics, and was a true gamechanger for women, both as athletes and as leaders in the field of sports.
Many women athletes had already made their dent before Title IX. However, this amendment became the catalyst for women expanding their roles in athletics — in college as well as professional sports.
Below are some of the women who led the way before or sometime after the enactment of Title IX.
Babe Didrikson Zaharias. Widely hailed as one of the first great women athletes, Zaharias excelled in 

golf

, 

basketball

, 

baseball

, and 

track and field

, winning two gold medals in track and field at the 1932 Summer Olympics before turning to professional golf, where she won 10 

LPGA

major championships. As America's first female golf celebrity, Zaharias made it ok for women to participate in sports — and win.
Wilma Rudolph.

One

of 22 children, Rudolph was sickly as a child due to polio and scarlet fever and could not walk without an orthopedic shoe until she was 11 years old. Her determination and grit, however, made her a

star basketball player and sprinter

during her

high school

years in Clarksville, Tennessee. Winning a bronze medal

in the 4×100 relay in the 1956 Olympic Games, she returned to the Olympics in 1960 in Rome and became the first American woman to win three gold medals in track and field at the same Olympics. Her record-breaking performance also earned her the title of "

fastest woman in the world

." 

When she returned home to Clarksville, the city organized a (segregated) parade in her honor but

Rudolph refused to attend

unless the event was integrated. The organizers relented and integrated the event.

Billy Jean King. Regarded by many as one of the greatest tennis players of all time, King not only founded the Women's Tennis Association and the Women's Sports Foundation, but took on Bobby Riggs in 1973 at age 29 (Riggs was 55) in the "Battle of the Sexes"…and won. All told, she won 39 major titles: 12 in singles, 16 in women's doubles, and 11 in mixed doubles. Toward the end of her career, she became a leading advocate for gender equality. In honor of her incredible career, President Barack Obama presented her with the Presidential Medal of Freedom, and the USTA National Tennis Center in New York was named after her.
Joan Benoit Samuelson shocked the world when she "made a risky early break" at the inaugural women's Olympic Marathon in Los Angeles in 1984. She ran alone for the final 21 miles of the race, becoming an instant icon when she won the gold medal. In addition, she held the fastest time for an American woman at the Chicago Marathon for 32 years after winning the race in 1985, and her time at the Boston Marathon was the fastest time by an American woman at that race for 28 years. According to nyrr.org, Samuelson's numerous history-making achievements, as well as her passion, grace, and discipline, have made her one of the legends of distance running.
On the shoulders of the ones who went before
All of these female role models, along with the sizeable help of Title IX, significantly increased the number of young girls, teens and adult women who play organized sports today. No longer are these activities primary restricted to males. The women who opened doors and smashed glass ceilings all those years ago so that others could follow are true heroes, or I should say, heroines. What they did then has led to where we are today: two female head coaches for two male teams.
SAMC: A focus on women
At SAMC we work with organizations and individuals to help support and promote their female talent, improve their diversity and pay parity, and coach and mentor women to become the best they can be. By so doing, we help recraft the narrative about what women can do in our society. If you are a business owner or manager, male or female, we urge you to take advantage of our leadership academies and individual coaching to help you recruit, retain, develop and empower women as effective members of your team, as leaders and as innovators. Please contact us so we can get started.
From Observation to Innovation,

Andy Simon
Partner, Simon Associates Management Consultants
Info@simonassociates.net