In my three previous blogs, I explained how digital or inbound marketing is the best way to turn strangers into customers, then promoters, of your business. I showed you how to use the inbound methodology to convert people who are searching for you into leads, and then how to transform those leads into customers (close the deal). Now it's time for the last, and arguably most important, step in the inbound marketing journey: Delight.
"Delight" is the glue that keeps a customer stuck to your brand, your solutions
By now you're probably well aware of HubSpot's graph that illustrates the four parts of a successful inbound marketing strategy: 1) Attract, 2) Convert, 3) Close and 4) Delight.
Inbound Marketing along the Buyer's Journey
Inbound is all about providing remarkable content to users, whether they're visitors, leads or existing customers. Just because someone has already written you a check doesn't mean you forget about them! Companies that correctly use inbound strategies continue to engage with, delight and (hopefully) upsell their current customer base into happy, long term promoters of their products and services.
Customer delight is not just a post-sale activity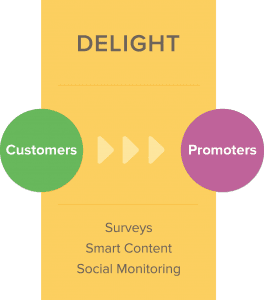 Delighting the people who have demonstrated genuine interest in your company's solutions should be a priority, both pre- and post-sale, wherever they are in the buyer's journey.
Delight is a crucial component for building loyalty — what Simon Sinek says is "when people are willing to turn down a better product or price to continue doing business with you."
7 customer delight guidelines
So how do you go about delighting people? By building trust in every small interaction you have with people. All of those small interactions, one building upon another, are what create lasting relationships. These 7 guidelines from HubSpot can help you do that.
1. Delight your employees. First, delight your employees and they will delight your customers. Happy employees create happy customers, generating sustained customer delight.
2. Educate your employees. Develop team principles for your employees to live by. Principles create autonomy and empower employees to make decisions on their own.
3. Empower your employees. Let your employees' personalities shine through. You hired them, now set them free. Remember: They are the faces of your business.
4. Listen. Whenever you or your staff are interacting with consumers, repeat what they say to you. What solutions are they searching for? What question do they need answered? What are their pain points? Make sure you're on the same page and that you're both discussing the same thing.
5. Ask questions. Go exploring with your customers. Ask questions to learn more about their problem or question. Start your questions with Why, How, What, When, Where, Who. After all, it's about them, not you.
6. Help and educate. "The businesses that are the best educators will be the most successful," says Mark Kilens. Your employees, the products or services you sell, in fact your entire company, should be problem solvers.
7. Follow up. Measure and track all interactions with prospects, leads and customers to help you improve the inbound experience. Make sure you always resolve their problems, as this is what will create a loyal, delighted customer. Be a true "problem solver."
Tools to delight your customers so they'll keep coming back for more
In addition, here are 4 specific tools you can use to delight customers:
Yes, inbound works if you work it
So there you have it: how inbound marketing attracts the right people at the right time with the right message and then methodically shepherds them through the four steps of the buyer's journey. At Simon Associates, we are really beginning to see the impact of inbound marketing on our own consulting business and those of our clients that have been using our inbound services, and let me tell you, the results have been pretty amazing.
Might this be a good time for you to try inbound? Start by examining your own marketing practices. Are you pushing unsolicited information out at people, or drawing them in by offering them original, compelling content they can use? If it's the latter, why not change and Go Inbound!
To learn more about Inbound Marketing
I recently wrote a white paper explaining how to "do" Inbound Marketing where I covered:
The data: How today's consumers are shopping for solutions and answers to their questions
The process: How marketing should change its processes to capture searchers
The tools: How to initiate the Inbound Marketing journey for your business
This might be very helpful as you contemplate Inbound Marketing for growing your company. To download my white paper, click on the button below.
Simon Associates is all about helping organizations grow,
change and thrive.
To talk with us about how Inbound Marketing could help your business grow, contact us at your convenience.