The phenomenally successful book, "Blue Ocean Strategy" by W. Chan Kim and Renée Mauborgne, powerfully teaches business leaders of all stripes how to "go where the profits and growth are and the competition isn't."
As a trained practitioner in Blue Ocean Strategy® who has been working with clients for years on how to find their "Blue Ocean," I have increasingly become aware that the one chapter really missing from the book is a "How to" chapter. This, then, is a blog-size version of what I feel that chapter should be, with the goal of helping you find your own "Blue Ocean."
First things first: what the heck 
is a Blue Ocean Strategy?
At Simon Associates Management Consultants (SAMC), each time we embark on a Blue Ocean Strategy session with clients, or lead a workshop on the subject, we always begin with the key question: "What is a Blue Ocean Strategy and why should I want to find one?"
The answer: It's not about faster, cheaper, louder…it's about YOU. In a Blue Ocean Strategy, you essentially make the competition irrelevant by breaking out of the "red ocean" of bloody competition and creating new demand in the clear waters of uncontested market space — a "blue ocean." You stop thinking about how to compete with others for the same customer in the same way, and instead, explore new, uncluttered market space, thereby finding prospective customers with unmet needs, waiting for you to help solve their problems in innovative ways.
In essence, Blue Ocean Strategy enables you to "see, feel and think" about customer and non-user needs in very different ways. Who could use you but hasn't thought of you as a solution? To compare red and blue oceans, take a look at the following chart:

Successfully implemented, a Blue Ocean Strategy frees you up to think in new, innovative ways about what could be, not what is already.

So how do I find my Blue Ocean?
The first step is to figure out the problem you are trying to solve. Typically it's that your company has stalled, or failed to sustain profitable growth. There are several factors at work here that could be keeping you stuck in this no-growth holding pattern:
You've attended so many trade shows in your own category that you can almost recite by memory what your competition is doing.

You keep trying to differentiate your business, your talent, your approach, your processes and your value proposition from others that are really just like you.

After

 defining your market and customer segments, you try to find your point of difference in a way that is meaningful to your customers at a price that gives you a margin.
Trapped in this zero-sum game, you and and your competitors are merely dividing up a highly competitive world into winners and also-rans. What to do?
First, take stock of where your products and services fit in your own industry.
The tool we like to use for this is the "Pioneer, Migrator, Settler" chart (below).




Using this tool, you can plot your products and services in terms of their degree of competitive innovation, monopolistic positioning, and ability to differentiate their solutions from others in the market. This is a different way to look at what you are offering and how it fits into market needs and demands. Over time, all products and services find themselves pushed back into a "settler" positioning as new products arise and the value you are offering no longer offers solutions in innovative ways.
Second, take a good hard look at yourself.
To get a clear picture of what is really going on with a company, we direct our clients to draw a "Strategic Canvas." Try doing it for your entire organization or for different lines of business — however your investment strategy is organized. The canvas allows you to see the value you are adding today by plotting your investment against your major competitor(s) along the core areas where the industry is investing today.
2 examples of a Strategic Canvas

1) A law firm
A May 16, 2016 article in The Washington Post reports that "one of the country's biggest law firms has 'hired' a robot lawyer to assist with bankruptcy cases. The robot, called ROSS, has been marketed as 'the world's first artificially intelligent attorney.'" A plethora of similar articles report the same thing, with unsettling titles like, "Will lawyers be replaced by robots?," "Here come the robot lawyers," and "Are Robots Going to Take Our Legal Jobs?"
Yikes. If I was in the legal profession, I'd be mighty worried. Which is in fact exactly what Is happening today. Law firms, along with CPA firms, are suddenly examining their business models and realizing they have to change. Why? Because the internet and technology are going to replace them (at least some of them) and they need a new strategy. A Blue Ocean one perhaps?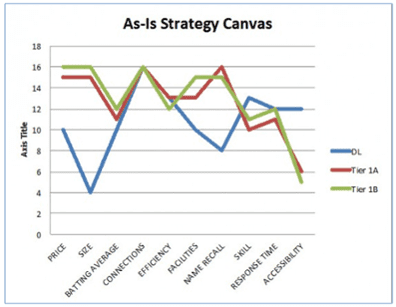 For this law firm, there is clearly a significant difference in its pricing strategy against the Tier 1A and Tier 1B competitive sets. While they believe they are smaller than their competition, they are actually very similar to it — almost to the point of being easily replaced by them, albeit at a price difference that might be meaningful.
The value of price is placed in the first position. The areas of industry focus are the other categories. I tell my clients to think of these as their five P's: Products, Promotions, Placement, Pricing, People.
2) Netflix
The rise of Netflix is a text book example of Blue Ocean Strategy implementation. Starting out in a red ocean full of cut-throat competitors, Netflix disrupted the movie video market in a way that let them create a new blue ocean in which they played alone. In fact, their strategy was so successful that they have put many video rental companies out of business. Household names like Blockbuster and Hollywood Video just couldn't compete.
Here's their Strategic Canvas in comparison to direct competitors like Blockbuster and indirect competitors like HBO: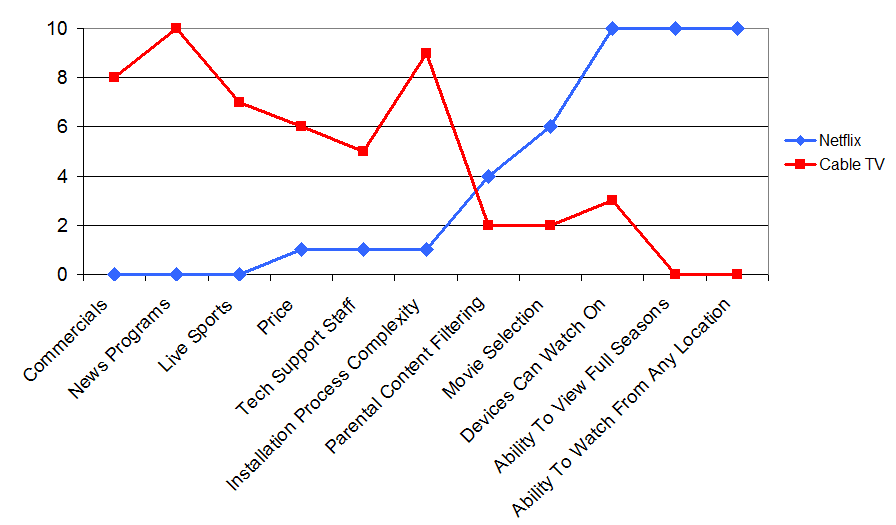 While the competition competed on convenience and spontaneity, Netflix business model allowed to not only compete in areas where the competition was week (selection, flexibility and availability of new releases), it also allowed the company to add two dimensions that weren't available for the competition: recommending movies to subscribers based on their review of the movies they had watched, and a connection to Facebook so they could easily recommend movies to their friends.
Blue Ocean
is a journey, not a point-and-click exercise
Blue Ocean Strategy challenges everything you thought you knew about strategic success in the marketplace. Specifically, it provides a systematic approach to making the competition irrelevant. As you understand and implement its practices, you will increasingly see that lasting success comes, not from battling competitors, but from creating blue oceans of untapped new market spaces ripe for growth.
Stay tuned for my 2nd blog in this series of Blue Ocean Strategy "how-to's." In it, I ouline how to move forward from a Blue Ocean "visual awakening" to finding those crucial business opportunities that await you, those unmet needs among non-users, and then capitalizing on them in revolutionary, transformative ways.
To truly understand the incredible power of Blue Ocean Strategy and what it could do for your company, please watch my video.
Maybe it's time for your Blue Ocean Strategy?
Are you ready for a Blue Ocean Strategy instead of slugging it out in your old red ocean? We have done over 270 workshops for CEOs and companies that need or want to find their Blue Ocean Strategies — in all types of industries in the US, Canada and around the world. Perhaps we can be of help to you and your organization. Please contact us for a free consultation. We love to talk Blue Ocean!
From Observation to Innovation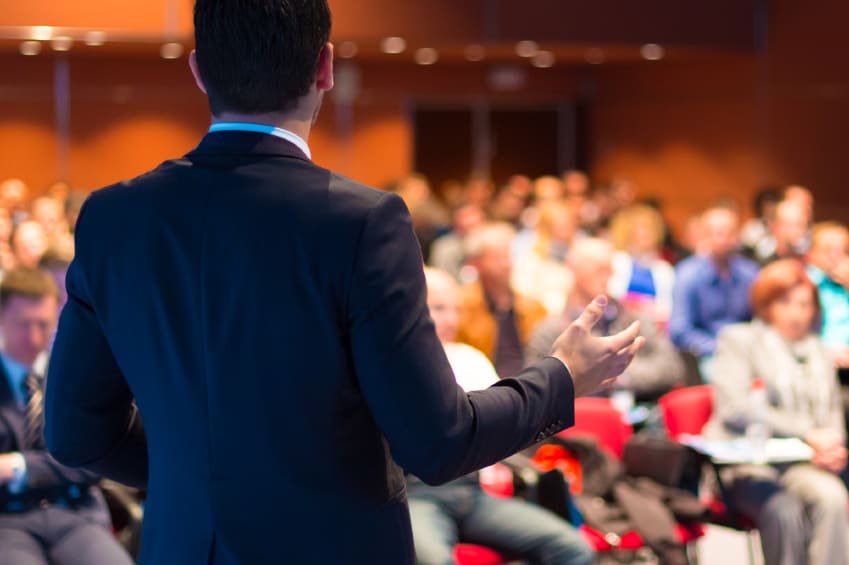 Andi Simon
Corporate Anthropologist | President
Simon Associates Management Consultants  |
Author: "On The Brink: A Fresh Lens to Take Your Business To New Heights"