Dilbert says "Change is good. You go first." Well, someone has, and now, it is your turn.
I've just finished a series of blogs about how e-commerce and open availability of information is disrupting businesses. These disruptive forces may very well require you to completely redesign your business. If so, where do you start?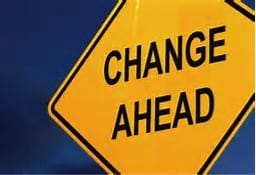 Let's look at one visionary with a proven history of disruptive change who is in the process of attacking the $5-7 trillion distribution industry, and see what we can learn from him.
First, there was Amazon
Although founder and CEO Jeff Bezos always intended for Amazon to sell anything and everything, he started with books.
Once the technology infrastructure was in place, Amazon began to collect data, and lots of it. They became experts at analyzing it, and then they used it to create personalized product recommendations and email marketing.
Once the bookselling operation was working well, Amazon used their technology and processes to rapidly expand into other areas.
These included music (although too late), web services, electronics, clothes, jewelry and more. They developed programs, such as Amazon Prime membership, which is a clever psychological ploy (it worked on me!) intended to entice their customers to buy even more from them.
Determined to maintain its dominance in the book market, Amazon entered into the hardware business with its Kindle e-reader. Recently, it released its own smartphone and its new gadget, Dash. These hardware products are all designed to support Amazon's strategy of making it easy for its customers to buy anything (and, ultimately, everything) from them, and to strengthen its customers' psychological ties to the company. Only time will tell if this strategy is brilliant or over-reaching, but it is definitely ambitious and focused—and it has already disrupted many long-established businesses.
Amazon is also taking direct aim at the world's largest retailer, Walmart, by heavily investing in distribution and pick-up centers.
These nationwide facilities allow its customers to pick up their orders almost immediately, and it directly attacks WalMart's brick and mortar advantage. While Walmart perfected logistics and buying skills in order to provide their customers with the lowest possible price, Amazon has become the expert at online ordering and delivery. Walmart isn't, and now it's trying to catch up.
After successfully taking over many retail markets, Amazon now has its sights set on the business-to-business world.
A not-so-secret takeover: AmazonSupply
Like me, an avid Amazon purchaser, you may not have heard of AmazonSupply, Amazon's "beta" site quietly launched 2 years ago, dedicated to selling supplies to businesses. Forbes Magazine's Article, "Amazon's Wholesale Slaughter," revealed their "secret" to the world.
In 2005, Amazon acquired Small Parts, a supplier of equipment for science labs, as a way to learn about the B2B market. In 2012, Amazon subtlely announced its entrance into the B2B world by changing the name of SmallParts.com to AmazonSupply. Since then, they have rapidly expanded their product portfolio, now offering more than 2.2 million items for sale.
Combined with its Web Services division and its lower product costs, Amazon is positioning itself to be the premier supplier to businesses, offering a comprehensive program to reduce supply chain costs.
Understandably, Jeff Bezos isn't sharing much about AmazonSupply. If fact, according to Forbes, "Bezos has uttered only 28 words in public—ever." Amazon's website boldly declares that its goal is "to supply everything needed to rebuild civilization. Ambiguous? Absolutely. We are trail-blazers who yield no limits. We have just begun."
If you are in the B2B market, your business will be affected in some way. Dirk Beveridge, founder of UnleashWD, "the only innovation summit for distributors," states that, "Amazon is making a bet on disrupting your business." And, you should take notice because:
You are competing against the BOLDEST Guys on the Planet.
You are competing against the SMARTEST Guys on the Planet.
You are competing against the MOST RELENTLESS Guys on the Planet.
How will you prepare for this impending disruption?
Trail-blazing the Amazon Way
Even if Amazon or AmazonSupply doesn't directly target you, someone else, somewhere in the world will. What can you learn from Amazon's successes?
Here is my take on what makes Amazon so successful at disrupting, and then dominating, target markets:
They LOVE disruption and even disrupt their own businesses.
They are expert at imagining what their customers will want in the future and how they will want to buy it. Then, they do lots of research and experimentation until they fully understand the market.
They have the courage to make bold, smart investments in order to capture a leadership position in new markets.
They are patient and view new investments as a marathon, not a sprint. At the same time, they abandon those investments that don't pay off in a couple of years and double down on those with the most potential.
They intensely focus on their customers' experience. They make it easy for their customers to find what they want, easily buy it and have it quickly delivered.
They establish emotional relationships with their customers and shareholders.
Technology is the backbone of their business and they use it strategically.
They love customer-specific data and are experts are collecting and analyzing it. The data is then used to create individualized marketing programs to create even more sales, and to make decisions.
They hire the best people, who are big thinkers, and challenge them relentlessly.
They manage cash flow instead of profits.
They accept (maybe even like) that they will create some enemies.
They accept that their hard-driving, cost-conscious culture results in high employee turnover.
Their CEO is ambitious (on a slow day), relentless, a micromanager, dedicated to his customers and a brilliant visionary (and maybe a relative of Steve Jobs?). Bezos loves conflict and wants to dominate the world.
Whether you like it or not, aggressive and creative companies like Amazon are using technology and propelling change at an ever increasing rate.
This disruption that is being created is on-going, and, just like death and taxes, guaranteed. On a positive note, Amazon's entry into the B2B world may push you to reinvent and improve your own business. Don't waste the opportunity!
If you have been complacent about innovation or investing in your technology, logistics and ecommerce capabilities, you need to catch up fast or risk being the next travel agency or book store.
Look at Amazon. What can you learn from them?
This is an expanded blog of Cheryl's column in Smart Business Magazine.