I always enjoy my workshops with CEOs. They teach me a lot about the trends happening in the world of business growth across the U.S. and Canada. This week as we move into 2017, I am working with a group of company leaders representing a wide range of industries, all of whom had a record year (or pretty close) last year in revenues and profits. In one of our sessions, they were all applauding each other and celebrating their accomplishments. 
For a moment I thought perhaps I had the wrong group since I speak on change and these executives and I were going to spend the next three hours searching for new market space, re-inventing their strategies and focusing their attention on unmet needs, non-users and how to add value in innovative ways. Next, I was going to ask them to take a look at the big trends that are taking place in the U.S. and globally right now, and determine if they and their organizations are ready to capitalize on them. So what was up?
Almost every business today is in danger of being replaced by entirely new solutions
These CEOs were quite an amazing group, accepting today's economic challenges with great enthusiasm. No wonder they were having record years. But as we began our workshop (yes, I did have the right group), I couldn't help but wonder if these companies were indeed at the top of their game or on the brink of being disrupted and replaced by (take your pick):

Blockchain technologies replacing banks, credit cards, accountants and others in the financial services industries.
Robots upending business models and challenging employees and the traditional jobs they have always done.
Digital inbound marketing transforming the relationship between sales and marketing into "smarketing."
The Millennial generation, having grown up digital, becoming the majority of the labor force.
Artificial Intelligence requiring intelligent human assistants to make it useful.
Amazon Echo and other Internet of Things connecting people in new ways.
3D printing enabling us to build everything from houses to pizza.
So, what do CEOs, entrepreneurs and established businesses have to do to stay vibrant?
At Simon Associates Management Consultants, our experience and expertise as corporate anthropologists enable us to help business leaders stop, step out of their comfort zones and see, feel and think about their businesses with fresh eyes. We also help them develop a willingness to stop saying "This is the way we do things here" or "No, we don't sell that."
This week's group did just that. Together, we explored a range of new opportunities that ironically, they were already seeing in their lenses. They just weren't sure how to respond to them.
Watch this video to learn how corporate anthropology can help your business grow
I invite you to watch the following 4-minute video, "How Can Corporate Anthropology Help Your Business Grow?" that describes how to avoid the cliff when you are sitting on the brink, not sure how to sustain your growth when the times they are a-changin'. Take a look and maybe you too can avoid falling off the cliff.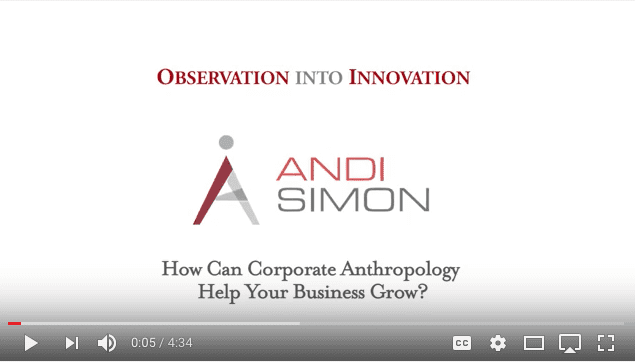 You can also dig deeper into these blogs on the topic
Enjoy and please let us know how your observations are turning into innovations.

Andi Simon, Ph.D.
President and CEO | Corporate Anthropologist
Simon Associates Management Consultants
Info@simonassociates.net