Are you ready for some distressing news? According to Axios.com, more than 25% of women recently surveyed by McKinsey & Company and Lean In reported that they are considering "downshifting their careers or leaving the workforce entirely, as the coronavirus pandemic has intensified challenges many already faced at work." The survey questioned over 40,000 women in 317 companies in the U.S. and Canada. This is an "emergency for corporate America," the report declares. You can read the results of the survey here. The graph below from Axios Visuals powerfully illustrates the plummeting participation rate of women in the U.S. labor force.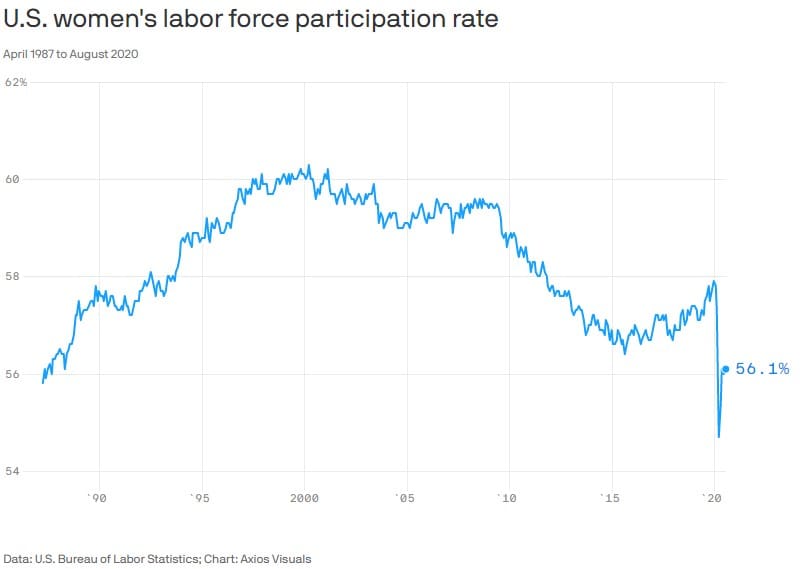 A related Axios article warns that the coronavirus could set back an entire generation of women, saying that "as women lose or leave their jobs, or cut back on hours to make time for other types of work, they'll likely miss out on raises and promotions." And when they do return to work after taking time off, "their salary offers are on average 7% lower than those of other candidates who haven't interrupted their careers," as reported by the compensation analysis company PayScale.
The pandemic is having a disproportionate impact on working women
In the six years of analyzing this issue, this is the first time that McKinsey has seen signs of women exiting the workforce at higher rates than men, the study says. If this trend continues, we'll be left with far fewer women in leadership and on track to be future leaders. This is especially concerning because the study indicates that "companies in which women are well-represented in leadership are 50% more likely to outperform their peers." So American businesses are not just losing women workers but high-performing, influential women leaders.
And it is taking an even heavier toll on working mothers, especially those of color
The study goes on to say that 76% of mothers with children under age 10 say childcare has been among their top three challenges during the pandemic, compared with 54% of fathers. And Latina and Black mothers — "who are more likely to be their family's only breadwinners or to have partners working outside the home during the pandemic" — face a greater burden than their white counterparts. Clearly, the inequality gap just keeps getting bigger and women disproportionately are paying the price.
But, there may be a silver lining in all of this
According to Axios, "the pandemic is at least starting conversations about issues that working women have faced for decades — a dynamic that could prompt change. Many companies are doing more to help working parents by offering additional child care assistance, men are rethinking how they can pitch in at home, and working remotely is causing many employers to reassess the traditional 9-to-5, 5-day workweek, creating more flexibility for parents."
So if there's any good to come out of this mess of a pandemic, it would certainly be welcome if that result was a reexamining of the role of women, the many hurdles they face in the workplace, and how they should be able to achieve everything they're capable of, now. This kind of rethinking is the focus of my new book, Rethink: Smashing the Myths of Women in Business, which you can preorder here. Coming out in January 2021.
Enjoy these stories of women who have persisted and prevailed
Ready to smash some myths?
I am thrilled to announce the upcoming publication of my new book, Rethink: Smashing the Myths of Women in Business in which I share 11 case studies, including my own, of smart, accomplished women who were told they couldn't be a lawyer, couldn't start their own business, couldn't be a geoscientist. Guess what? They did it anyway and became phenomenal successes. Preorder your copy here.
What myths are holding you back? Contact me if you're ready to start your journey of achieving everything you deserve.
From Observation to Innovation,

Andi Simon, Ph.D.
Corporate Anthropologist | President
Simon Associates Management Consultants
Info@simonassociates.net
@simonandi
Don't miss an episode of my On The Brink podcast! Subscribe now