Congratulations Lauren Mathys!!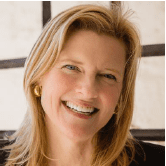 Lauren won this week's drawing for a copy of my book "On the Brink: A Fresh Lens to Take Your Business to New Heights."
Founder of Bluecrest Consulting, Co-Founder of LeadershipTraining4U.com, and a Blue Ocean Strategy® Network member, Lauren specializes in approaches which break the traditional rules of strategy, innovation and leadership to boost performance in organizations. Her particular area of expertise is in Blue Ocean Strategy, also known as Value Innovation, and Blue Ocean Leadership. With over 20 years' experience  in the biopharmaceutical industry, Lauren has had the opportunity to put into practice both competitive strategy and value innovation frameworks across a number of areas.
Lauren obtained her Masters in Business Administration from INSEAD (with Blue Ocean Strategy co-creator Prof. W. Chan Kim as her Stratgey Professor) and her undergraduate degree in Political Science from Occidental College in Los Angeles, CA. Both a Swiss and U.S. citizen, Lauren lives outside Geneva, Switzerland with her husband and son.
Subscribe to "On The Brink" podcast
Don't miss out! Subscribe to our podcast now and you too could win a free copy of my award-winning book, "On the Brink: A Fresh Lens to Take Your Business to New Heights" during our weekly Monday drawings.
To listen to current "On The Brink" podcasts, click here
From Observation to Innovation,
Andi Simon, Ph.D.
Corporate Anthropologist | President
Simon Associates Management Consultants
Info@simonassociates.net
@simonandi