Recently I have begun interviewing successful women to better understand the role culture has played in their personal and professional success. Apparently I'm not the only one curious about this, as there is a great deal of interest today in how corporate cultures can impact the success and ultimate value of a business.
However, m
y focus at the moment is specifically on the type of culture women CEOs create in their businesses and what impact, if any, this has had on their bottom line results. My other motivation for conducting these interviews is to hopefully uncover insights to share that might help other women as they build their businesses.
My first conversation was with Stephanie Breedlove, an entrepreneur who is now turning her business success into a pathway for other women. (Like minds.) My observations became a recent article for The Huffington Post, which you can read here. 
Want to listen to me read the article? Click here:
—
For Stephanie Breedlove, necessity was the mother of invention — and led her to her Blue Ocean Strategy®
Stephanie co-founded her business, Breedlove & Associates, in 1992 after realizing that the corporate environment was not very accommodating for profession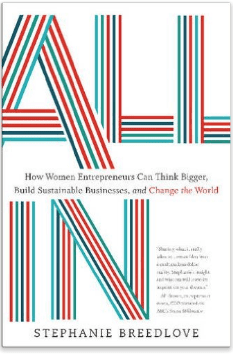 als who were also mothers. (She details how she built this startup into a $10MM business in her new book, "All In: How Women Entrepreneurs Can Think Bigger, Build Sustainable Businesses, and Change the World.")

As a Blue Ocean Strategist®, I was immediately struck by how "Blue Ocean" Stephanie's business model was. Blue Ocean Strategies help companies find unmet needs and add value in innovative ways so that they are not just "another business solution" but the "only solution" (until competitors encroach).      
The idea for her company, Stephanie told me, came to her when she felt she could not "do it all," i.e., juggle a full-time job, kids, and the payroll requirements of household employees. Brilliantly, she recognized an unmet need — other parents (not just moms) must face this same predicament, she figured — and decided to enter a previously nonexistent market segment: providing payroll, tax and labor law guidance for families needing help managing the financial and legal aspects of in-home care workers.
As I describe in my The Huffington Post article, Stephanie sold Breedlove & Associates to Care.com (now Care.com HomePay) in 2012 for over $50MM. Care.com is the world's largest online marketplace (over $160MM in 2016) for matching in-home care workers with people who need help caring for children, homes, parents with Alzheimer's or dementia, family members who are ill … even pets. It was a perfect fit and added even more value to the services Stephanie's company had been providing, she explained.
3 ways to create a culture that enables employees to do good work by working together well
Here are the three main ways Stephanie, and her culture, accomplished great things.
1. Her business was unique and her staff shared her vision. After Stephanie's "a-ha" moment led her to co-found her startup, two things were key to her company's success: it wasn't mimicking another business model (it was the "only") and the staff she recruited shared her vision, purpose and emotional ties with the clients they served.
2. As her company grew, she reinvested the profits back into the business to fuel growth. The trick, Stephanie told me, was to build the business while keeping the culture focused on what others needed. In other words, she focused on being a results-oriented organization but not at the expense of how people collaborated and shared ideas. And just as importantly, she encouraged her staff to be innovators and empowered them to try new ideas.
3. She created a corporate culture that enabled herstaff to blend work, home and community. Stephanie shared with me that her company intentionally took a whole-life approach and did not ask staff to choose between work or family or community involvement. Not surprisingly, Breedlove & Associates won all sorts of local awards for being one of the best places to work in its area.
Download our Anthropology Toolkit for more culture tips
Learn for yourself how corporate anthropology can help you identify your company culture (and if it needs changing) with our easy-to-use Anthropology Toolkit. Download here:
Yes, businesses can do good and do well
In Stephanie's case, she understood how to balance the fact that people want to work in a collaborative, clan type of business environment with high levels of care and concern for each other and their clients. They also want to be empowered to try new ways to deliver better solutions, and they also want results. And guess what? It worked.
Want to know more? 3 blogs on corporate culture 
Fundamental to human society, culture binds people together through shared values, beliefs and behaviors. But how do you know what your company's culture is? And whether it's promoting, or prohibiting, business growth? These three blogs will help you find out.
Could your business use a "culture audit"?
At Simon Associates Management Consultants, we specialize in helping business leaders understand how corporate culture affects the way workplaces are structured and how productive they are. Perhaps we could help you examine your business culture and in so doing, uncover new possibilities for growth? Contact us for a complimentary consultation.
From Observation to Innovation,

Andi Simon, Ph.D.
Corporate Anthropologist | President
Simon Associates Management Consultants
Info@simonassociates.net
@simonandi