Learn what wonderful things can come from a quiet mind
I met Patrick when we were both traveling in Sicily. As we talked about our own life journeys, I learned that he has held successful positions in advertising, marketing, content development and event planning. He was very good at them but not very happy with them, so he moved to a small island off Scandinavia and became a newscaster. He then began to wonder about life and what he was seeing all around him: the extinction of animals, the troubles in our climate, and the difficulties people are having living healthy lives. Not afraid of change, he became a mindfulness coach and now helps others find their peacefulness, their humanness, and their personal center. I have gotten so much out of my conversations with Patrik, and you will too.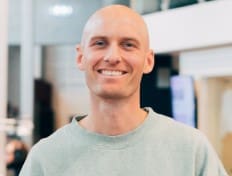 Taking time to quiet the mind
Patrick is very interested in how to help people have better lives, healthier lives. This means spending time quietly meditating and looking at themselves from the outside in. What's so interesting is that he's doing with individuals many of the same things we do with companies, at least with the individuals in those companies.
As I finished our podcast, I wondered if we should offer meditation and mindfulness sessions with our SAMC clients. They are all working hard and fast and it might be well worth it to pause and sit still for 10 minutes and just think about the moment. Maybe they would realize that all of those tensions and challenges are not about them. That they could be at peace and do their jobs in healthier ways. What kind of quiet mind could actually help us do better for our families, colleagues and clients?
Enjoy this podcast. And think about your own journey.
Is it time for you to take a little time just for you? Can you do it every day, perhaps in the middle of the day? Learn how important that quiet time is for your mental health, your sense of well-being and your understanding of who you are.
You can learn more about Patrick at his LinkedIn page, www.linkedin.com/in/ronstrom
Want to learn more about mindfulness? Check out this blog and 2 podcasts