Learn how to go where the competition isn't!
For over a decade, Michael Olenick and I have worked together on Blue Ocean Strategy. Now, Michael is going to lead our Europe and the Middle East division. We have been getting a growing number of inquiries from all over the globe for Blue Ocean Strategy work, and Michael has been helping us guide these companies. It is now time for us to team up together and see how to help businesses everywhere discover the great value of seeing things through a Blue Ocean lens. We are thrilled to welcome Michael to our team here at SAMC, and to share with you our recent conversation. If you want to really understand how to grow and prosper, take a listen.

If you have not had the opportunity, listen to our On The Brink podcasts on Blue Ocean thinking and the process to do it. You'll learn how to "see" the amazing possibilities that might be all around you that can transform your business.
In this podcast, we wanted Michael to introduce you to his own perspective on Blue Ocean Strategy and the work he has done over almost 20 years. We talk about his work with Nintendo, and what that taught him about how its competitors, Microsoft and Sony, were focused on the young 8-year-old boy while Nintendo created a completely new market by thinking about everyone else.
It's not about more, cheaper
As Michael works with clients and publishes case studies about Blue Ocean Strategy success stories, he, and I, become increasingly convinced that more of the same, cheaper, is a strategy for failure. It was what others have preached forever. I talk about this in depth in an article I wrote for Forbes, "Does Your Business Need A Boost?," which you can read here.
Clearly, in today's fast-changing, tech-driven world, people and their organizations are going to have to think about what could be, not what is already. Markets and the companies trying to serve them need value innovation, not value incrementalism. A little bit better product or service keeps you stuck in a red ocean with a lot of others trying to do the same thing.
So, as we Blue Ocean experts preach, stop going to your own trade shows. Go to different ones. Go exploring. Figure out unmet needs and nonusers who could use you. Then go get them. They might even be coming to you. Stop saying "We don't do that." Instead, try and figure out how you can do it. "The future is all around you, if only you can see it," as John Seely Brown tells us.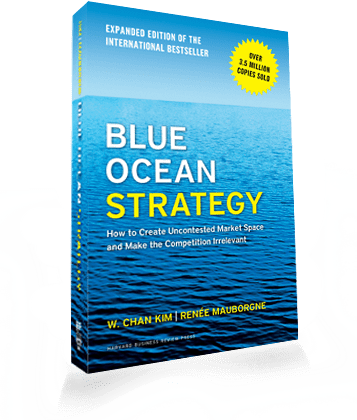 An Executive Fellow at the INSEAD Blue Ocean Strategy Institute in Fontainebleau, France, Dr. Michael Olenick has worked closely with Blue Ocean Strategy co-founders W. Chan Kim and Renée Mauborgne since 2001, before their groundbreaking book, "Blue Ocean Strategy" (which has sold 4 million copies to date), was published 2005. Back then, their novel approach to business growth consisted of a series of articles in Harvard Business Review. Michael learned about Blue Ocean Strategy (then called Value Innovation) as a product developer at Avery Dennison, brought it to GE, and has used it at countless companies ever since.
Today, Michael advises, consults, researches and teaches Blue Ocean Strategy throughout the world and has implemented its business strategy for companies ranging from startups to Fortune 100s. He works with senior executives from a wide array of companies and organizations to develop and/or study strategy, focusing particularly on technology, disruption, non-disruption and the differences and similarities between B2B and B2C businesses.
Michael's research has been cited in leading business publications, including The New York Times, The Wall Street Journal, The Washington Post and Bloomberg. In addition, the U.S. Congress and New York Federal Reserve have collaborated with him and relied on his research when making policy.
Currently, Michael's research is taught by leading business schools, including Harvard Business School, Stanford Graduate School of Business, the Wharton School, University of Chicago and many others. Multiple cases are bestsellers at Harvard Business Review/Harvard Business School Publishing, including:
News flash! W. Chan Kim and Renée Mauborgne ranked #1 Thinkers
by thinkers50.
Want to know more about Blue Ocean Strategy? Start with these blogs and podcasts 
Blue Ocean Strategy is all about identifying your customers' (and potential customers') problems, pain points and unmet needs, then offering them your one-of-a-kind solution. For a more in-depth explanation of how to find your own blue ocean from people who have actually done it,  listen: