Listen now as Elaine Sutton shares how she helps young people manage their lives like a project!  
Elaine Sutton and I met at the HER Summit (Helping Entrepreneurs Rise), the inaugural event of The Simon Initiative, held at the Skandalaris Center at Washington University in St. Louis. What I love about Elaine is her entrepreneurial spirit. (You know we love entrepreneurs!) Using her experiences and expertise to help young people grow into successful adults, she focuses on the power of Project Management because she sees how young people need a process to manage their lives as if it was a project. A great person making a real difference. Take a listen!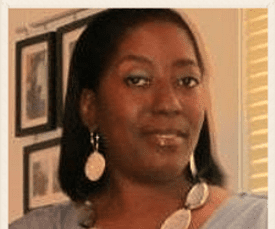 In 1951, Langston Hughes wrote his famous poem, "Harlem ("What happens to a dream deferred?")."  In just 51 words, Hughes addresses the frustration and anger felt by African Americans whose dream of equality is continually being deferred.
Elaine Sutton doesn't want to see those dreams deferred. Instead, through the S.M.A.R.T. 3 Project (Steering the Mind to Aim and Reach its Target), she teaches young people how to apply the tools and techniques of Project Management to achieve their dreams.
Some background on Elaine
For more than 25 years, getting her start in civil rights and social justice advocacy at the organization founded by the late (Rev.) Dr. Martin Luther, Jr., Elaine Sutton has dedicated her professional career to advocating on behalf of disenfranchised and marginalized individuals and groups.
Her mission is to "inform, impart and inspire" young people to not only dream but to put solid plans in place to bring those dreams to fruition by treating their lives like a project, leaving nothing to chance.
Currently, Elaine is the Legal Support Coordinator for the ACLU of Missouri. In addition, she recently assumed responsibility for planning, implementing and executing two new sections within the Legal Department's ICU: Continuing Education and Digital and Multimedia Evidence.
Previously, Elaine was Assistant Project Director/Training and Technical Assistance Director for Syracuse University's Americans with Disabilities Act Center. Prior to this, she served as Program Manager/Volunteer Administrator with the Single Parent Alliance and Resource Center.
Elaine has also worked as an independent grant reviewer and consultant, helping numerous community groups that provide training and technical assistance to state and federal agencies, as well as community and faith-based organizations on building collaborative partnerships and networks to address the reintegration needs of the formerly incarcerated.
Elaine graduated from the Executive Faculty Development Program of Morehouse School of Medicine's National Primary Care Center in 2008. In addition to her online radio show, "Justice Beat: Let's Talk SMART!," that focuses on criminal justice reform, she also leads The S.M.A.R.T. 3 Project for youth between the ages of 12 and 17 in which they are encouraged to "Dream Again" through a workshop entitled "Essential Life Skills for Managing Your Life Like a Project."
You can reach Elaine at covenantcollaborative@gmail.com.
More great people doing great things:
Additional resources:
Download the 1-page synopsis of my book, "On the Brink: A Fresh Lens to Take Your Business to New Heights" here