In the latter half of the 1960s, a massive disruption was underway in the US fashion industry. Before WWII, America dominated the globe in garment manufacturing, employing over 2 million people. After the war, that all changed, from where garments were made to who designed them. By 2000, only about 2% of Americans' clothing was made in the US. 
Amidst all this change, women in the garment business saw an opportunity. They stepped up and voiced their desire to lead, and if they were told no, they started their own companies. A terrific example of a woman refusing to be held back is Babette Ballinger, whose story I share in my book, "Rethink: Smashing The Myths of Women in Business," and whose chapter I summarize below. When you read Babette's story, you will be amazed, as I was and still am. Also, take a listen to my podcast with Babette in April of this year and hear her tell her amazing story in her own words.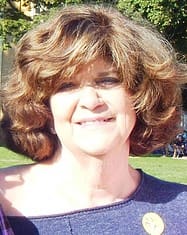 Excelling in a female-focused industry controlled by men
Babette became a successful designer, manufacturer and marketer of apparel, first in childrenswear, then in womenswear, and eventually establishing her own brand of Babette Ballinger knitwear…all in an industry historically run by men. We can credit the trailblazers who opened the door to other women designers: Diane von Fürstenberg, Donna Karan, Ellen Tracy, Liz Claiborne, Anne Klein, Tory Burch and many, many others. And their numbers are growing. And yet, women still lead only 40% of the major fashion houses in the US, with the much larger majority run by men. Progress, but not enough.
The recurring myth is that women are not as creative as men and that they cannot run a business.
Unfortunately, that perspective has not changed dramatically. Studies have shown that if people think a woman made something, regardless of the type of product, they believe it is not as good as if a man made it. They claim they would pay less for it and have lower expectations for its functionality or value.
What's worse is that research suggests that even women themselves think men are more creative. They associate creativity with more masculine traits such as risk-taking, independence and daring. Women are regarded as sensitive and caring. Research on home designs, for example, found that both women and men rated creativity higher when told that a man did the design.
Clearly, we have a lot of work to do to not only get women in business into leadership positions but to change deeply ingrained attitudes about their capabilities, creativity and accomplishments. Babette did it. Now we all need to work together to help other women do the same.
Things you can do now to start thinking about change:
From Observation to Innovation,

Andi Simon, Ph.D.
Corporate Anthropologist | Author | CEO Simon Associates Management Consultants
Andisimon.com
Info@simonassociates.net 
@simonandi
LinkedIn