Learn how to craft a strategy that delivers the results you want
Remember, my job is to help you get off the brink. How do I do that? By helping you see, feel and think in new ways. As a corporate anthropologist, I go looking for people who can help you do just that: see in new ways the things you may have done the same old way for a long time. Carol Poore is one of those people. We met through our publisher, Greenleaf Book Group, and I learned that she has a new book coming out on business strategy. Since I'm a Blue Ocean Strategist, I was particularly interested in understanding her perspective and how it could add new meaning to the way we at SAMC approach strategy, and how you do too. How do you approach your strategy, both your personal one and your business one? It's important to understand that in order to get to your destination, whatever your goal might be. Do take a listen!
Watch and listen to our conversation here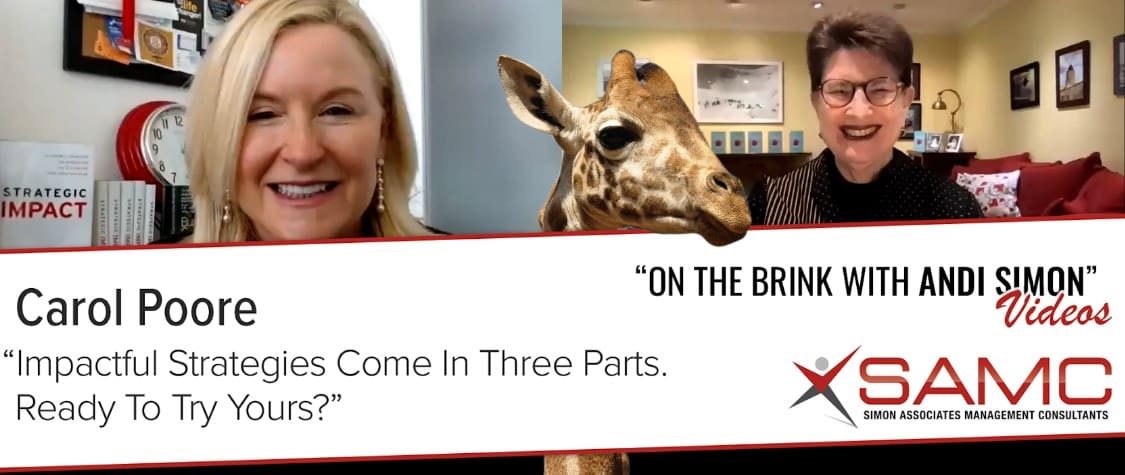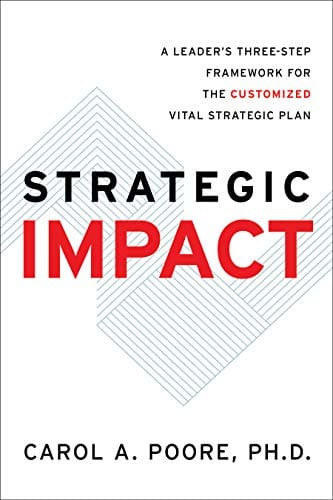 What will you learn during this podcast?
A whole lot about how to customize your strategic planning process so that it turns into an extraordinary execution that delivers the results you anticipated. Carol's book, Strategic Impact : A Leader's Three-Step Framework for the Customized Vital Strategic Plan, presents her proprietary method for customizing your organization's strategic planning program.
The key is her 3-step framework, applicable to any organization regardless of size, scale or structure, which enables you to:
•Declutter the typically complicated strategic planning process.
•Plan and lead a leadership workshop culminating in strategic goals.
•Craft a compelling written strategic plan which can be digitized and communicated through social media.
•Implement an effective tracking and communication system to monitor progress and ensure accountability.
•Engage employees, customers and key audiences in celebrating your organization's strategic impact.
As you listen to this podcast, keep in mind that a strategy is really a simple story.
It's a way to organize the data in your mind and in your organization into a simple approach to getting to a destination. I emphasize that it needs to be simple and easy to implement, otherwise it's just a concept that goes nowhere.
About Carol Poore
President of Poore & Associates Strategic Planning, Carol Poore  delivers effective leadership and transformational results for a unique range of organizations and clients.
Her expertise and accomplishments include helping senior executives, emerging leaders and consultants develop a Vital Strategic Plan; expanding the internal capacity of large companies, small businesses, nonprofits and government organizations through her 3-step program; launching and growing a subsidiary company for Salt River Project, achieving $500 million in sales revenue within three years; developing the Parsons Center for Health and Wellness, a nonprofit community health center, raising more than $23 million in private and government grant funding; and tripling donations for Arizona State University's West Campus. You can connect with Carol on LinkedIn, Twitter, Facebook and her website, or email her at cpoore5@cox.net.
Want to learn more about effective strategy? We recommend these:
Additional resources for you