Hear how women leaders are finally coming into their own
There are times when very special people come into our lives. If you believe in serendipity, as I do, you realize that they are here for a purpose. We often are not sure what that purpose is, but there is something almost magical in meeting them, working with them, and just having them enter your orbit. Edie did a lovely review of my new book, Rethink: Smashing the Myths of Women in Business, and from there our friendship grew. Now, Women Business Collaborative is working with Rethink and Catalyzing the Future to host a global virtual summit on May 13, 2021 called Catalyzing the Future: Rethinking Women's Leadership in Business. You can register here.
You can watch our interview here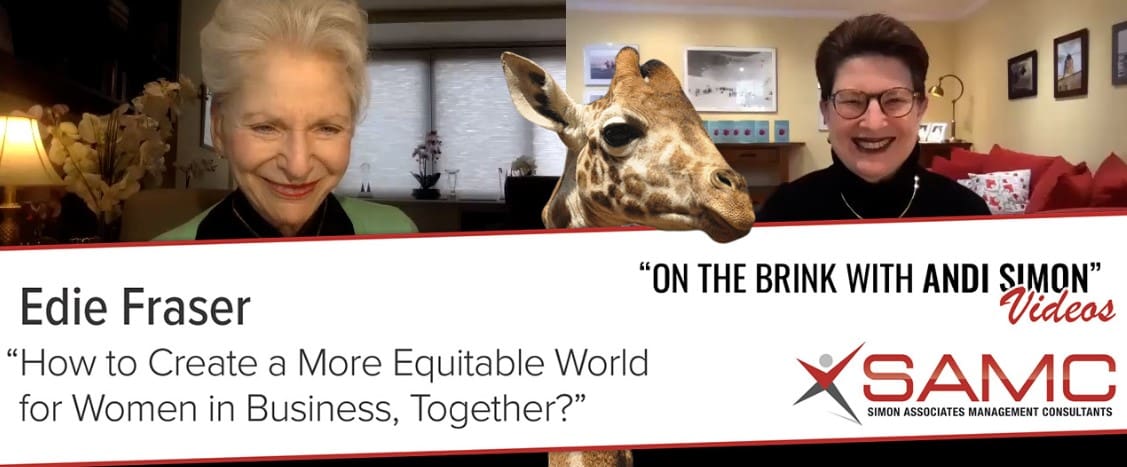 We are stronger and go farther together
Edie Fraser was introduced to me by a client/colleague/friend, Lynne Born. Edie, Lynne and others had realized that momentum moving women forward was coming slowly, almost at a snail's pace. All of the organizations centered around women's advances in business were well-intended and hard-working, but were often competing with each other for position and progress.
Instead, Edie decided that what was needed was to combine all of these great organizations into one collaboration where together, they could turn momentum into a movement that would propel women into C-suites, into boardrooms, into pay equity and gender equality, and enable women entrepreneurs to gain a fair share of the VC capital.
Listen to our conversation about how Edie's life was a journey on its way to catapult herself and others into this new movement.
But also listen to how working together, recognizing the achievements of each of these organizations and each other, can propel change in business, and in society, in ways that none of us can do on our own.
About Edie Fraser
Currently CEO of Women Business Collaborative whose mission is to accelerate equal position, pay and power for all businesswomen, Edie previously spent 14 years as Managing Director of Diversified Search and Founder and CEO of STEMconnector® and Million Women Mentors®. She also founded and served as CEO of Public Affairs Group working with 250 Fortune companies, advancing best practice programs focused on women and diversity leadership. 
A consummate entrepreneur, Edie has built three companies and launched several movements. In addition, she has received 56 major leadership awards, including the Mosaic Woman Award and Lifetime Achievement Award from Diversity Woman Magazine. She has served on numerous boards, including the national board of SCORE, and has been inducted into the Enterprising Women Hall of Fame. She also was the first woman to serve as Chairman of the World Affairs Council of DC.
Edie is the author of several books, including Do Your Giving While You Are Living and Risk to Riches: Women and Entrepreneurship in America.
You can connect with Edie on LinkedIn or Twitter or email her at Edie@WBCollaborative.org
Learn more about what women can accomplish when working together
Additional resources for you