Hear how embracing the unfamiliar unlocks your best ideas!
Often when I am looking for interesting people to bring to our podcast listeners, I am introduced to unexpectedly fascinating folks like Claus Raasted. An innovation strategist, Claus has been pushing the limits of the possible for 20 years. He is Director at The College of Extraordinary Experiences, a Coach at McKinsey & Company, and posts a daily innovation keynote on his YouTube channel. He is also a prolific author with 30 books to his name, and has just finished "The Innovation Cycle." Our discussion was about how to help people "see, feel and think" in new ways, which you know is my own passion and purpose. For a fascinating podcast, listen in!
Watch and listen to our conversation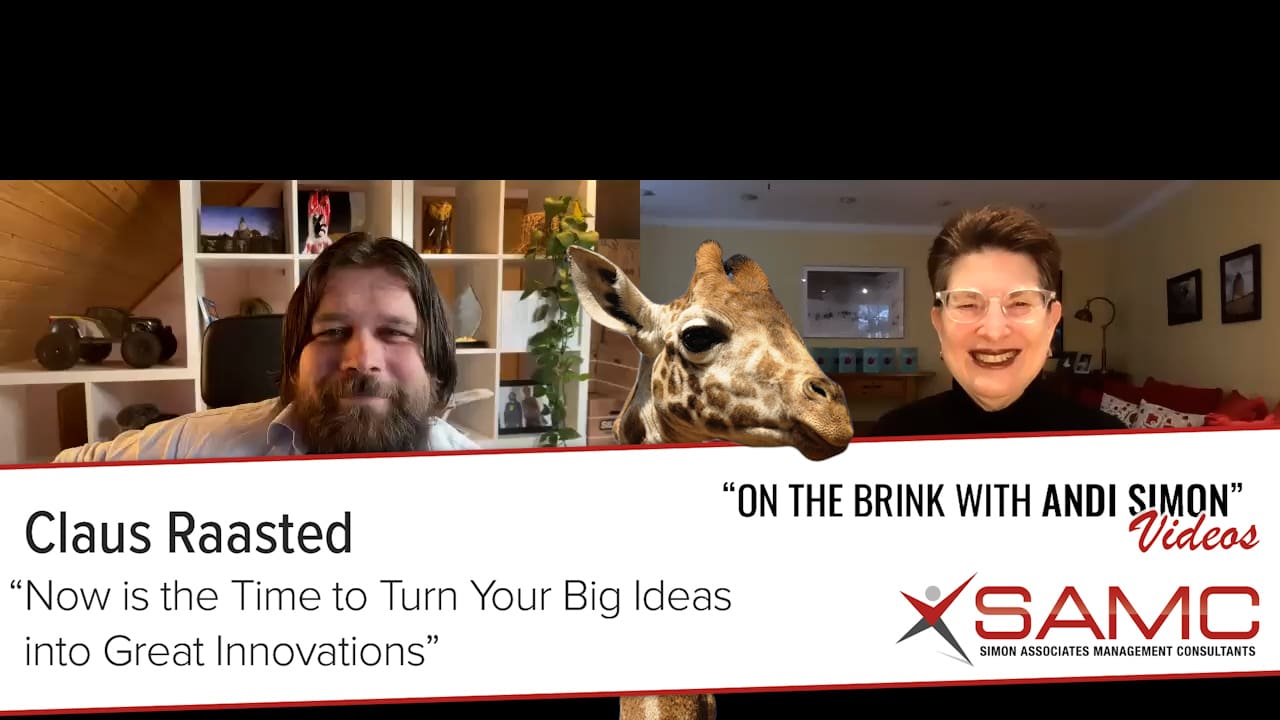 While Claus is a successful innovator, he knows how difficult it is for people to do that
Currently, Claus helps people create ideas and then enables them to implement them. In this podcast, we talked about how ideas come from across industries, from people of different backgrounds coming together to share their viewpoints. And while it's so much more exciting to learn from people who are different than us, people are often uncomfortable with the unfamiliar. Their brains just hate the new and the different. 
As a corporate anthropologist who helps companies change, and that means the people inside those companies, I know far too well how the brain hates to change, how it embraces the familiar and fights the unfamiliar. You just need to collaborate with your mind to change all of that and see what is possible. Let this be a time for change. You can do it!!
Claus teaches you how to take your big ideas and turn them into great innovations
He also shares a simple lesson: If you want to do anything—whether it's write a book, change your company, create something new in how you cook dinner—just start. Do a page, a chapter, an idea, one step at a time. The important thing is to start.
You can connect with Claus on LinkedIn, his website, The College of Extraordinary Experiences website, his blog or his email claus.raasted@gmail.com.
About Claus Raasted
This is what clients say about Claus:
"Claus packs more insights into 60 minutes than I can action in 6 months. His fresh, deeply insightful perspective matched with his uncanny ability to tell stories the way his audience can grasp leave the listener feeling a sense of awe and wonder. Savvy, sharp, savant."
"He can inspire you to sit up and listen, and never has there been a greater need to re-evaluate and better understand the changes in ourselves, in business and in society."
"A cross between Thor, Mick Jagger and Lady Gaga!"
Claus works globally but his base is the island of Bornholm in the Baltic Sea, where he lives with his better half and their daughter.
Ready to start working on innovationa and change? Start with these
Blog: How to Convert a Great Idea into a Successful Innovation
Blog: Hate Change? Anthropology Can Make You and Your People Love It!
Podcast: Andy and Andi Simon—Innovation Games® Are What You Need To Imagine Your Future
Additional resources for you