Learn how to find your "why," a key to happiness 
As you know, for our On The Brink podcasts I go looking for people who have a different perspective, something in their own journey that's worth sharing so you can learn from them and begin to think about yourself with some new, fresh ideas. Such a person is Matthew Korban, a Certified Health and Life Coach. With our SAMC clients we often say, If you really want to change, have a crisis or create one. Well, Matthew found himself in the middle of a major crisis, a health crisis, and it ended up changing his life. Today he's healthy and happy, and spends his time teaching others how they can be too. Take a listen.
Tough childhood, then success and a near-death experience, then happiness
Born in Beirut, Lebanon during a war, Matthew spent the first 13 years of his life hiding from bombs. When he went to school, he would hide under the desks and hold his friend's hand and then run to the shelter. When he turned 13, he left Lebanon to be educated in Switzerland and France, then came to the U.S. for college. Once he started working, all he wanted to do was work hard at a career, have a family, and give his kids a decent life, not like the one he had had.
Soon he was working 15-hour days and weighed 350 pounds. He was leading a very unhealthy life but he was very successful. He was a CEO, sitting on boards and receiving awards. He was a star. But he couldn't walk.
When he went to his doctor, he was told that he had major inflammation that had contaminated his blood, spleen and intestines and that he had five months to live. "Just go be with your family for five months and then that's it," his doctor told him.
Growing up, Matthew used to practice martial arts. As he explains in our podcast, "My instructor used to say, If you fall down six times, make sure you stand up seven." Matthew remembered this as he was lying on a medical table, determined to live. He regained his strength, went back to school and got certified as a Health and Life Coach. Now he helps CEOs and top executives learn how to restore balance to their lives, to their relationships, to their health. "I'm enjoying this much more than I used to enjoy my previous work," he says. "I have much less money but I'm happier."
Matthew's 3 step change process
Like us, Matthew is a culture change expert and shares with us his method of helping people let go of the old and embrace the new. 
1. First thing is admitting you need help. Everyone needs help. But it really takes courage and strength to ask for help. It doesn't mean you're weak, it means you're strong. We need to cheer each other on.
2. The second step is uncovering your why. This is the most important thing. The first 15 ways you answer the question "Why?" are wrong. It takes 15 times to get it right. We sit in our comfort zone and when we ask why we're doing this, our answer is to defend ourselves and protect ourselves and shield ourselves, so we can keep sitting in our comfort zone.
3. His coaching method called MOVE. People love their comfort zone. But by changing, it doesn't mean starting over. It's just taking your desire to have everything and turning it into something better, something where there is a purpose with an objective. Matthew starts with small habit changes to reshape the new, then steers people toward that new direction. And as we preach all the time, no one likes change!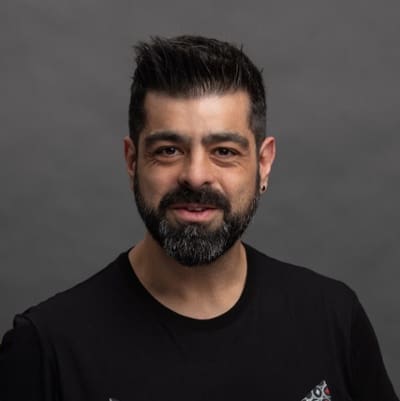 About Matthew Korban
Matthew Korban, Certified Health and Life Coach, has spent over 25 years connecting with people, first as an international marketing consultant and now as an impassioned coach who helps executives restore balance without compromising their careers, relationships or health. As an 8-figure business owner, Matthew understands the demands of business and the stress of building something from the ground up, which is why he is passionate about helping others achieve balance and be successful.
Matthew was at the top of his career when a near-death experience turned his life around. He now trains people from all walks of life to connect to their passion, reignite relationships and find balance in their lives. His wife, Marina, is a certified Yoga instructor. Matthew is a 5th Degree black belt martial artist and practices meditation and yoga daily.
You can contact Matthew on Twitter or his website www.matthewkorban.com, or email him at mattkorban1@gmail.com.
Need help changing? Here are some things to get you started
Additional resources