Learn how to embrace your flaws to achieve success
This was an unexpectedly powerful interview. David Rendall has literally turned lemons into lemonade. As he shares with us, growing up he had a hard time fitting into the norms which his teachers and parents expected of him. He moved around too much, talked too much, and found himself always a little on the outside of what others thought was "normal." Then he had an epiphany. He realized that what he had was a gift for turning the things that others did not want him to do into things they loved watching him do. He took his weaknesses and turned them into strengths. In this podcast, he teaches us how to do the same. Incredible lessons here! Listen in.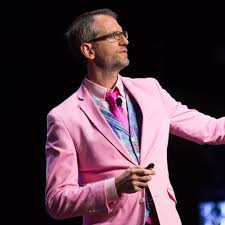 Unleash your inner freak… and discover your unique potential
Try it. David tells us to think of the things that make us strange―the weaknesses that we won't admit during a job interview or performance evaluation. Perhaps, those lemons are not sour at all. Your successes, your strengths, may be the very things that make you stand out from the crowd.
Our parents, teachers, bosses and managers have told us that if we want to succeed, we should find and fix our weaknesses. However, this is the wrong approach, David says, because each weakness is also a strength. Listen in to our conversation to find out how to create outrageous personal and professional success by amplifying your flaws instead of denying them.
Are you embracing your inner freak, or are you hiding it in order to conform and maintain the status quo?
David Rendall believes that highlighting your weaknesses is crucial for your success. During the last 15 years, he has spoken on this topic to audiences all over the world, including the US Air Force, the Australian Government, and numerous Fortune 50 companies such as Microsoft, AT&T, United Health Group, Fannie Mae and State Farm Insurance. 
Prior to becoming a highly sought-after speaker, David was a leadership professor and stand-up comedian. He also managed several nonprofit enterprises which provided employment for people with disabilities.
David has a Doctor of Management degree in organizational leadership, as well as a graduate degree in psychology. In between presentations, David competes in ultramarathons and Ironman triathlons. He is also the author of four books:
You can contact David via his website or at dave@drendall.com
For more on unconventional paths to business success:
Additional resources