Hear how women can build better businesses that thrive!  
I was hunting around for leading women in the financial services sector as I was writing my book about exceptional women smashing the myths of what women can and cannot do. Lisa Caputo's name came up and having been an ex-Citibanker for many years, I was interested in what she had done there for women. Lisa's entire career has been amazing, and as a powerful role model, her story should be told. I wanted to share her story with others, both men and women, to celebrate how women can build better, together. In our podcast, she talks about her own personal growth and those who helped her on her journey. Listen in; I know you'll learn so much.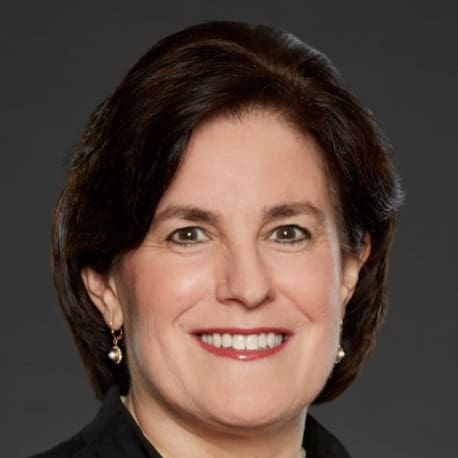 This is about much more than just women and financial services
It is about how Lisa has been part of the transformation of this country over the past several decades, helping craft the voices of different presidents and presidential candidates, and helping us better understand what was happening at the time. Her role in industry, whether at Disney or Citi or Travelers, has been equally impressive as she has built businesses and helped change them.
An early career in politics
As Lisa will share with you, after graduate school she was highly influenced by one of her professors and decided to look for a job in government, becoming the national issues press secretary during the 1988 Dukakis-Bentsen presidential campaign. Next, she became press secretary to US Senator Tim Wirth of Colorado and US Representative Bob Traxler of Michigan. At the 1992 Democratic National Convention, she ran Al Gore's media operations.
After working on the 1992 Clinton-Gore campaign, she was then asked to become Hillary Clinton's press secretary, at the age of 27. She oversaw the communications and media relations operations for the First Lady and the First Family, as well as serving as chief spokesperson and deputy assistant to President Bill Clinton. In 2008, she was a senior advisor to Hillary Clinton's presidential campaign, frequently being seen on CNN, MSNBC and other TV networks, providing analysis on the 2008 and 2016 presidential races.
Making her mark in the corporate world
After her time in politics, Lisa served as Vice President of Corporate Communications for the CBS Corporation, then joined Disney and then CitiBank, where she was Senior Managing Director of Business Operations and Planning in Citi's Global Consumer Group. She also served as Chief of Staff to the Global Consumer Group CEO, where she worked with senior managers to develop and implement strategies to expand the business and coordinate business activities across the Global Consumer Group, as well as across other Citi businesses. At the request of the Citi CEO, Lisa also developed a strategic plan and organizational structure for the Citi Foundation to focus the company's philanthropic giving.
Women & Co.
When she first joined Citi, Lisa started Women & Co. which provides solutions to address the distinct financial needs of women in their various life stages. Under her leadership, Women & Co. grew from concept to startup to revenue generator, with its members now accounting for over $30 billion in assets under management at Citi.
A highly-recognized leader and role model for women
In addition, Lisa is a television commentator and public speaker on current events and politics, and a contributor to O Magazine. She has been an NBC and MSNBC political analyst for numerous presidential election cycles and has served as co-host of CNN's Crossfire and CNBC and MSNBC's Equal Time. Today, she is Executive Vice President and Chief Marketing and Communications Officer for The Travelers Companies, Inc.
Lisa has been named the AWNY Advertising Woman of the Year and one of Ad Age's Advertising Women to Watch. She is a NYWICI Matrix Winner for outstanding achievements in the communications industry and has been recognized as the Direct Marketing International Woman of the Year. She was selected as a Young Global Leader of The World Economic Forum and was named one of "New York's Rising Stars: 40 under 40" by Crain's New York Business. In 2016, Lisa was inducted into PRWeek's Hall of Fame in recognition of her "outstanding contribution to the development of the communications industry."
For more stories about women in business, check out this blog and 2 podcasts