Hear how this entrepreneur brilliantly capitalized on unmet needs!
Brit Arthur is one of those creative women who sees a problem and just wants to solve it. Who says women aren't as ingenious as men? They haven't met Brit. Back when she was in school at Pratt Institute studying fashionwear, she saw a problem. She hated the way bathing suits were made and how they fit women's bodies. Designers were making things that all looked the same. Fabrics and fit were compromised to keep costs down. What do you do when you're a talented, young, inspired visionary? You do better, much better! Wait til you hear Brit's phenomenal story.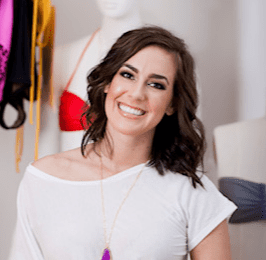 BeachCandy: A 20-year-old's big beautiful idea
Founded in 2007 by Brit Arthur, BeachCandy offers women an entirely new experience with swimwear. It all started with Brit's devotion to women and the power of feeling pure confidence in a swimsuit. What a concept!
BeachCandy's success has come in large part from allowing women to decide for themselves what makes a swimsuit sexy or sophisticated. Also, the idea that fit goes beyond a body type. Like a true entrepreneur, Brit set out to change the way women thought and felt about swimwear, and millions of bathing suits and satisfied customers later, she's done it.
You'll enjoy listening to Brit talk about her own journey and the global expansion of her brilliant start-up. As entrepreneurs ourselves who love helping other emerging business owners, we love hearing stories like Brit's and champion her success.
More than a store—a magical experience
Headquartered in Costa Mesa, CA, BeachCandy is not just a bathing suit boutique—it's the ultimate luxury designer swimwear destination for women, where every dream swimsuit becomes a reality. What I really love about Brit's unique approach is that in addition to its ready-to-wear designs, BeachCandy allows customers to create any style of swimsuit they desire from scratch. Some women come to the store with photos of inspiration, a favorite bra or a cherished tattered old swimsuit. Brit and her staff then personally collaborate with them to design completely unique creations of exceptional fit and quality. Niche marketing at its best.
After our podcast, you are going to wonder why you never thought of creating an innovative company to solve those unmet needs that we always talk about. (Think Blue Ocean Strategy!)
Learn more about Brit and BeachCandy here.
Ready to launch your own big idea? Perhaps these blogs and podcast can help:
Additional resources