Tristan White explains why culture is everything!
What if you started on your life's journey only to find out that it wasn't really what you wanted to do? Perhaps you thought you'd become a teacher, until you realized you were never going to love it. Or you thought engineering was your calling, until you found out you weren't very good at math. Today's interviewee, Tristan White, thought he was going to be a physiotherapist working with sports stars helping them stay healthy and agile, until he actually started doing it. Not loving it, he pivoted, and the rest, as he will tell you, is history. We can all learn from Tristan's story!
Building a company culture that works for you, your staff and those you serve
Tristan White, my guest today, is from Australia and our podcast was recorded across the globe. He is the founder and CEO of The Physio Co, a unique healthcare business ranked #1 on the Australian business magazine BRW's list of Australia's 50 Best Places to Work in 2014, a recognition it has earned for ten consecutive years, along with being named one of the Best Workplaces in Asia from 2015-2018.
Pretty impressive! And there's more. Tristan's story started like so many others. He had a dream of working in a job that inspired him. He didn't find that job, so he created it. In 2004, The Physio Co (TPC) was born with one team member: Tristan White. In the 13 years since, TPC has become a remarkable healthcare success story based upon fast growth and a thriving, systemized company culture.
A system and a book which teach you how to create a great place to work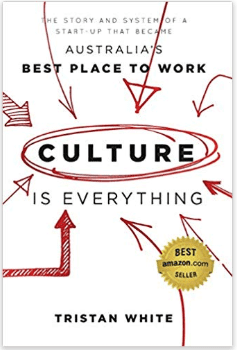 Tristan's obsession with creating an inspiring place to work for himself and others has resulted in more than a decade of learning, testing and refining his system of building a thriving company culture, called Culture Is Everything. This system has guided The Physio Co. to 15 years of continuous and profitable growth.
His book of the same name, "Culture Is Everything," explains how you can achieve a successful culture in your own business or team. However, it is not a textbook, nor is it only for healthcare-focused organizations like Tristan's. It's an experience-share approach based on Tristan's journey. It's what we discuss in our interview, and it can be applied to any organization, regardless of size or industry.
What are the major ideas you will take away from this podcast?
We spend so much time working that we need to find a way to enjoy it.
We enjoy work when we're doing something useful for others.
We enjoy work when we feel proud of doing the right thing in challenging situations.
We enjoy work when there are defined boundaries around what we are doing, and we have some freedom regarding how we do it.
Every team, business and organization can create this "freedom within boundaries" environment that is the foundation of a strong future.
Want to dig deeper into culture? Check out these 5 podcasts
Additional resources:
Download the 1-page synopsis of my book, "On the Brink: A Fresh Lens to Take Your Business to New Heights" here