Dusty Rubeck tells us how to bring about innovative culture change!
How do you transform an old, established organization? How do you give it new purpose and change the way people get their jobs done? While that is what we do for clients, Dusty Rubeck showed us some fresh ways to move an organization in new directions. Dusty and I met at a Vistage meeting where I was speaking. He reminded me that he had heard me once before and had adopted a Blue Ocean Strategy approach to change himself and his organization. It seemed appropriate for us to dig further into what he had done and how he had done it. Enjoy!
Bringing Blue Ocean Strategy to America's churches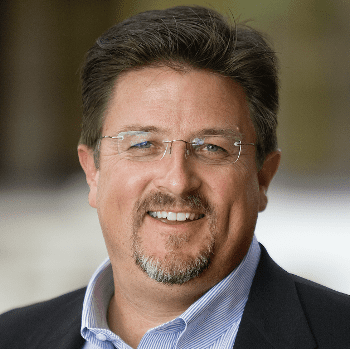 These are very challenging times for churches. Research by organizations such as the Barna Group, LifeWay Christian Resources and others indicates that as many as 80% of the Evangelical churches in America are in decline.
Blue Ocean Strategies, as you might know already, is a way to shift your focus from what you have always done in the past to users' unmet needs and non-users who need solutions no one else is providing. Dusty did just that. What you will hear in our conversation is how he stepped back—a little like an anthropologist—and began to look at religious organizations with fresh eyes.
Dusty has certainly practiced what he preaches
During his 10-year tenure as President of Dallas Christian College (DCC), he successfully transformed the corporate culture, led his team through the launch of an intensive four-year mentoring program for every student, and provided guidance through the expansion of innovative uses of educational technology.
What leaders of corporate, higher ed and non-profit organizations are facing is very similar to what Dusty has seen in the religious institutions within which he has worked. "Churches in America are facing tremendous challenges," he said when he took over the reins of DCC. "From the impact of the recent recession, to the national decline in church attendance and giving, to the growing cultural hostility against Christianity, these are times that demand bold leadership. The churches and para-church ministries within the independent Christian churches and Churches of Christ are displaying that leadership as shining lights in a dark time."
Some background on Dusty
Since January, 2014, Dusty Rubeck has served as President of CDF Capital, a $650 million lending fund which serves 6,000+ independent Christian churches and ministries. Prior to that, he was President of Dallas Christian College, and President and CEO of The Worship Television Network.
Dusty has also been Executive Director of the North American Christian Convention, Vice President of Kentucky Christian University, and a fundraiser for Christian Missionary Fellowship and Christ In Youth. He has served on the boards of the Farmers Branch (TX) Chamber of Commerce, the Provision Ministry Group, Church Development Fund, Stadia Church Planters and Kentucky Christian University.
He has received an honorary Doctor of Education degree from Dallas Christian College, an M.B.A. from Indiana Wesleyan University and a Bachelor of Arts from Dallas Christian College.
For more on the transformative power of Blue Ocean Strategy, check out these podcasts:
Additional resources:
Download the 1-page synopsis of my book, "On the Brink: A Fresh Lens to Take Your Business to New Heights" here