Sarah Olivieri helps businesses get organized and get going!
Whether you are a nonprofit, a for-profit, or just really interested in building better businesses, Sarah Olivieri has something you are going to enjoy in this podcast. As she worked with numerous nonprofits, she realized that they are often well-meaning but slightly disorganized. Don't misread me here. These are wonderful organizations. The leadership and their staff are not dysfunctional but just in need of a little more focus, structure and process tools for growing their passion and their purpose. Sarah created those tools and they are transforming the organizations with which she works. We share her approach so you can think about your own organization. Maybe you too need to see it with fresh eyes. Enjoy this podcast, learn and share!
Most nonprofits are organized with a lot of heart, which is to say, are relatively disorganized.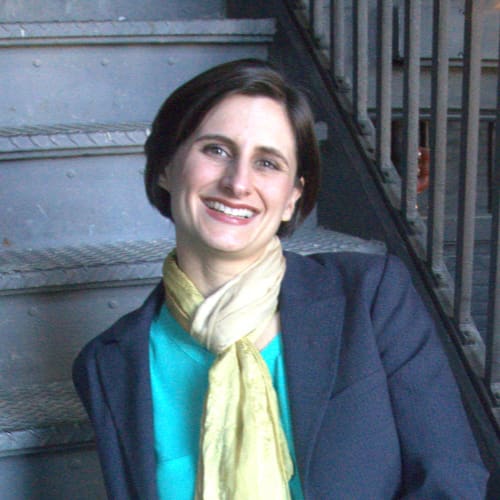 When they do manage to get "organized," silos often form, with invisible walls hampering communication and collaboration between departments, or between administration and non-administration.
There can also be entire functions that are missing, resulting in stagnated growth and diminished impact. Without the right kind of organizational structure, nonprofits are bound to feel overwhelmed as they struggle with delegation and wearing too many hats.
What to do? Call Sarah Olivieri!
Is your nonprofit stuck in the growth process? Sarah can fix that.
The founder of PivotGround, Sarah Olivieri is a nonprofit strategist with a passion for helping human-service nonprofits increase capacity, deliver better programming, attract more funding, and best of all, make the world a better place.
Resulting from her many years working with nonprofits, Sarah has created a clear process for Executive Directors to not only stay focused on moving the organization forward but to overcome obstacles which naturally arise from growth.
Called the Impact Method™, Sarah's proprietary process breaks down a nonprofit's big, audacious goals into clear, easy-to-understand components. Designed to unlock an organization's true capacity and harness it to its full potential, the Impact Method enables everyone involved in an organization, from employees to donors to volunteers, to be energized, focused and pursuing the same bold strategy.
Sarah follows that up with the Impact Strategy™ and Continuous Action Plan™, so nonprofits can make clear progress and know exactly what to focus on next.
At SAMC, we tell our clients they need to know where they're going and have a plan for how they're going to get there. Helping them develop that plan is part of the work we do to help them drive change. Sounds like Sarah and us are on the same page!
Some background on Sarah
Sarah Olivieri has over 15 years of nonprofit leadership. Notably, she co-founded the Open Center for Autism and was Executive Director of the Helping Children of War Foundation. She is also a published author, co-writing Lesson Planning a la Carte: Integrated Planning for Students with Special Needs.
4 podcasts about driving change you might enjoy:
Additional resources:
Download the 1-page synopsis of my book, "On the Brink: A Fresh Lens to Take Your Business to New Heights" here