Jeff Leisawitz teaches us how to tap into our own amazing creativity!
Creativity coach Jeff Leisawitz burns with a mission: to inspire writers, artists, musicians and people everywhere to tap into their creativity, to heal their hearts and to shine in the world. As his book, Not F*ing Around: The No Bullsh*t Guide for Getting Your Creative Dreams Off the Ground, tells us: Can't quite get your creative juices flowing? Is your day job sucking your soul? Are you fizzled out before you put the finishing touches on your amazing creation? Maybe it's time to pause, step back and rethink who you are and what your purpose and passions are. Listen to our podcast and you may just come away with a whole new outlook on your amazingly creative self, just waiting to be discovered! Enjoy.
Jeff has an idea for you: The creative side of your brain can fill you with renewed energy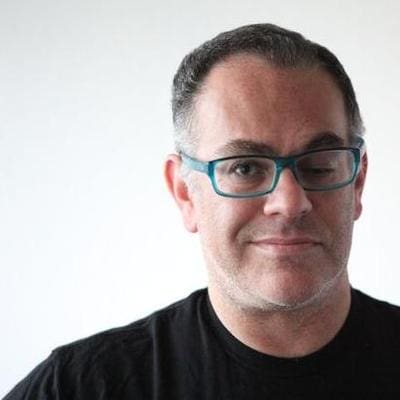 We start out as kids full of ideas and creativity. We play our games and make up our realities. It's how we learn to be humans. (As an anthropologist, I've studied this extensively.) Then, slowly over time, we are told to focus, stop wandering, leave that creative energy outside, stop playing so much and become a rather sad soul.
Jeff wants you to find yourself again—and he believes it is all in your creativity. By pulling back the curtain on the creative process, his website and new book tell you how.
Jeff reminds us that we are all potential creative super stars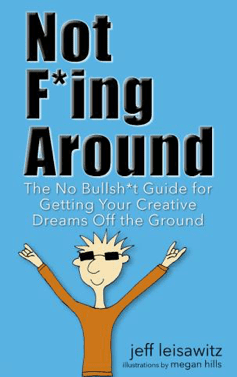 In our podcast today, Jeff challenges us with these inspiring words: "It's time to get off the couch and get on the path. It's time to tap into the cosmic heartbeat that thumps in your chest and shines from your soul. It's time to be seen, expressed and healed."
Sounds exciting! It is exciting to listen to Jeff and how he found his own personal way. Our conversation reminds me of the pleasure I had when I would take off on Tuesdays and head over to my friend Mary's place to oil paint for a day. I emerged re-energized and literally transformed. I miss the day, the paints and Mary.
One of my favorite quotes about Jeff's book:
"Not F*ing Around is a great pocket-guide for the long road to achieving one's own definition of success. Deep thoughts masquerading as light-hearted anecdotes and challenges."
—Lori Deschene, Author and Founder of Tiny Buddha
Who Is Jeff Leisawitz?
Jeff is a creativity coach informed by Neuro-Linguistic Re-Patterning techniques, and an adjunct faculty member at Pacific Lutheran University in Seattle. He is also an award-winning musician/producer and an internationally distributed screenwriter and director who has devoted his life to the art of creativity.
As the producer of Electron Love Theory, Jeff fused interviews with Seattle's WTO demonstrators into electronic music, garnering more than 250,000 downloads worldwide. He has released five studio albums with more than a million streams and 5,000 music placements in film, TV and multimedia, including HBO, MTV, Discovery, NBC and Microsoft.
When creative businesses, schools and organizations such as Seattle Art Museum, Tacoma School of the Arts, Gage Academy, Northwest Film Forum, King County Libraries and others need to amp up their creativity, Jeff leads workshops and events to fire up the creative spirit and empower people to tap into their true potential.
A few blogs and podcasts about finding your creativity:
Additional resources:
Download the 1-page synopsis of my book, "On the Brink: A Fresh Lens to Take Your Business to New Heights" here