Hear how Maria Gallo and her team took an innovative approach that paid off, big time!
Dr. Maria Gallo is a very special interviewee for our podcast. She is president of Delaware Valley University—DelVal to many of us—in Bucks County, PA, north of Philadelphia. For much of 2018, we worked with DelVal on their Blue Ocean Strategy and are thrilled at the terrific successes they're seeing. Realizing that the demographics of students is changing, fast, Maria and her team knew DelVal needed a new strategy. What did they do? They set about finding their Blue Ocean Strategy and innovatively fulfilling today's students' unmet needs. Is it working? Like gangbusters. Take a listen. Might the lessons learned apply to your organization or business?
DelVal: Seeing opportunities with fresh eyes, then capitalizing on them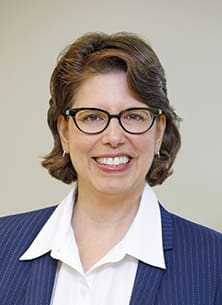 We began working with Dr. Gallo a short while after she became president of Delaware Valley University in Doylestown, PA. Our first task was to help her and her team identify the unmet needs of their current students, as well as the needs of nonusers (potential students) who could be attending DelVal but weren't. Next, we brainstormed about how to fulfill these unmet needs in proactive, innovative ways. This was very exciting to watch because it's what Blue Ocean Strategy is all about: creating a new market space, then building demand for your solutions to that new market's needs, not focusing on what your competition is doing.
As a result of our work together and a university-wide effort on DelVal's part, there has been change. DelVal's curriculum is now heavily grounded in experiential learning, and every student completes the Experience360 Program, which may involve opportunities such as internships, research, study abroad and more. Currently, more than 93% of graduates have a job or a place in graduate school when he or she leaves the university. Moreover, those graduates' employers rave about their attitudes and their aptitudes.
And there's more (a lot more). Under Dr. Gallo's leadership, DelVal announced its first endowed professorship, launched a new graduate program in criminal justice, increased its international student enrollment, and invested in hydroponics and aquaponics education. In addition, the university has hosted numerous nationally-renowned speakers, including CNN's Brian Stelter and NPR's David Folkenflik, added its first student member to the Board of Trustees, initiated new partnerships with Longwood Gardens and W. Atlee Burpee & Co, and sent more than 100 students to the LeaderShape Institute, one of the premier leadership development programs for college students in the US. Plus, DelVal's Experience360 Program was named the 2019 Outstanding Experiential Education Program of the year by the National Society for Experiential Education, and its animal science programs are among the top 20 in the country.
Now that's an innovative approach to growth! That's a Blue Ocean Strategy!
Background on Dr. Gallo 
On July 1, 2016, Dr. Maria Gallo became the 13th president of Delaware Valley University. A plant molecular biologist specializing in crop improvement, she has authored 81 refereed journal articles and nine book chapters. She is also a Fulbright Scholar and Fellow of both the American Society of Agronomy and the Crop Science Society of America.
Prior to coming to DelVal, Dr. Gallo served as dean and director for research and cooperative extension at the University of Hawai`i at Mānoa in the College of Tropical Agriculture and Human Resources (CTAHR). As dean of CTAHR, she also served as chief executive officer and worked with the Advisory Council, faculty, staff and stakeholders to create the strategic vision for the College. As CTAHR's administrative head, she was in charge of all faculty members, administrative officers and other employees statewide. And as CTAHR's chief academic, research and extension officer, she provided the vision and leadership for the College's six interdisciplinary academic departments, four county offices and numerous research and extension facilities on 1,554 acres across Hawai`i.
Prior to joining the University of Hawai`i at Mānoa, Dr. Gallo served as professor and chair of the agronomy department at the University of Florida where she led a productive teaching and research program.
Dr. Gallo currently serves on the American Council on Education's Women's Network Executive Council, the Pearl S. Buck International Board, the Central Bucks Chamber of Commerce's board of directors, and the Bucks County Workforce Development Board. A native New Yorker, she earned her B.S. in agronomy from Cornell University, and both her M.S. in crop science and Ph.D. in genetics from North Carolina State University.
6 blogs and podcasts on higher education and Blue Ocean Strategy you might enjoy:
Additional resources:
Download the 1-page synopsis of my book, "On the Brink: A Fresh Lens to Take Your Business to New Heights" here