Listen now to Melissa Greenwell explain why having women in leadership positions is good business!         
You might know that gender imbalance is a problem at your company. You see the issues that arise from groupthink and a lack of diversity in viewpoints, communication styles and thought processes. Maybe you're uncomfortable with the conversation. Or you have no idea where to start. That's why you've got to hear my interview with Melissa Greenwell, author, EVP and COO of Finish Line, Inc., the athletic apparel company. Her ideas are spot-on for right now. Don't miss!
Tackling the causes of gender imbalance and also the actions we can take to make a real difference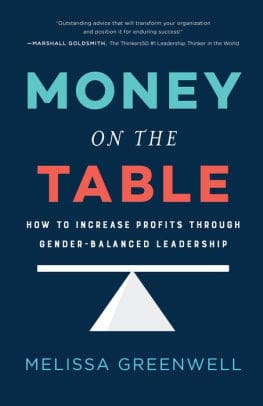 As Melissa will tell you, for most of her nearly 30 years in corporate America, she has held senior leadership roles and has had a "seat at the table" surrounded by almost exclusively men.
She spent her career partnering with executive teams to create talent strategies that support business objectives in organization design, performance and rewards, succession planning, leadership development and employee engagement. And she has seen firsthand how gender imbalance is causing company after company to lose money. She talks about all this and more in her new book, "Money on the Table: How to Increase Profits through Gender-Balanced Leadership." I urge you to pick up a copy.
As well as being the right thing to do, corporations should really start to take a deep look at the financial impact of having women in leadership roles, as well as throughout their organization.
The financial impact of women employees is quite compelling:
Firms with women in 15% or more of the jobs consistently outperformed those with fewer than 10%.*
Since 2005, publicly-traded companies with more than one woman on their board of directors have seen stock market returns that are 3.7% higher annually than those with no female representation.*
Firms with a higher proportion of women on the board or in top management positions had higher valuations, better returns on equity and higher payout ratios.*
Since 2009, companies with a 3-to-1 male-female management mix averaged annualized returns of nearly 23%. When one-third of the managers were women, average returns increased to more than 25%. When the numbers were balanced—a far smaller sample size—annualized returns exceeded 28%.*
*Credit Suisse: The CS Gender 3000: Women In Senior Management
In this episode, Melissa Greenwell and I discuss:
Why there continues to be a great imbalance in the workplace despite the fact that there are 7 million open jobs in the U.S. just starving for talent

What you and your company or organization can do to change this number

How to start the process and keep it going
Resources mentioned in this episode:
Download the 1-page synopsis of my book, "On the Brink: A Fresh Lens to Take Your Business to New Heights" here