Listen now

to

Debra Zambito talk about learning and changing along life's journey!
In this fascinating podcast, Debra Zambito shares her journey of becoming CEO of Elant, a leading healthcare system in New York State. Initially, Debra helped Elant's five skilled nursing facilities transition to new ownership, then she became CEO of its Clinical Care Retirement Community and the Elant Foundation. What is so interesting is how Debra describes how she has personally changed throughout her exceptional career. On the Brink is all about how to see things with fresh eyes—even ourselves, which is why Debra's revelations are spot-on. Listen in!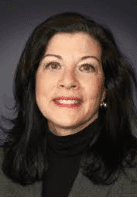 Evaluating our lives and where they are going is not easy. We start our careers in one place and then as we learn more, experience different environments, work with managers and colleagues, and move up (or sometimes sideways or backwards), we find ourselves changing, often despite what we think we "are." And at the same time we are changing, so is the world around us, and there is much to learn along the way.
What is clear as you listen to Debra share her experiences is that often, we are all on our way somewhere, on that train called "life." And yet, as we pursue our careers, change jobs, learn new skills and benefit from great mentors, we really need to reflect on the journey. As Debra explains, we are often not sure if the stops on the train are the right ones or just interesting places to gain a better understanding of ourselves, develop our skills and confidence, and continue on our way to someplace new and exciting.
As well as being an accomplished businesswomen, Debra tells a great story and I am delighted to share this wonderful interview with you. Debra's journey may be much like your own. And yours may be worth sharing as well. If you'd like to, I'd love to hear from you!
In this episode,

Debra Zambito

and I discuss:
How we hone our ability to think strategically to capture the big picture
How to ensure there is effective communication among all stakeholders
A real humility to "know what you don't know"
How to be truthful with yourself

The progression of Debra's career

How Debra prospered in a male dominated field

Adapting to different business cultures

Creating a uniform brand by replicating appropriate management

Communicating complex ideas simply

The switch from for-profit to not-for-profit environments

The functionality of Elant

Importance of hospitality in assisted living

The need of empathy for creating environments

How to keep people out of their comfort zones

Utilizing tools of communication for each situation

Achieving the strategic plan
Resources mentioned in this episode: