Listen now to Gustavo Grodnitzky's fascinating talk about culture!
At Simon Associates Management Consultants, we are anthropologists, and therefore think we know a lot about people and their cultures, but interviewing Gustavo Grodnitzky was an eye-opener. His perspective about how "Culture Trumps Everything…" reminded us that culture is not the after-thought. It is the center of our human worlds—if only we can better understand our culture and how it must adapt to the world around us.
If you are beginning to realize that your customer of tomorrow is not the one you know right now, you know you are going to have to rethink your business. Might as well stop, pause and take a close look at that culture–all those things you do every day when no one is watching.
Listen in and learn a lot.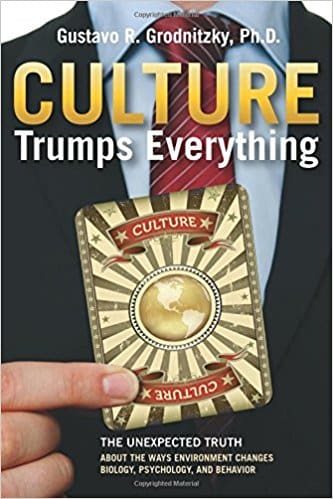 Renowned speaker, consultant, psychologist and author, Dr. Gustavo Grodnitzky's diverse background brings a unique and multidimensional perspective to his global clients. After obtaining his Ph.D. in clinical and school psychology, Dr. Grodnitzky completed post-docs in both cognitive therapy and forensic psychology. In addition, he has directed an inpatient drug rehabilitation unit in a correctional institution and an outpatient mental health center.
Since 2000, Dr. Grodnitzky has focused on corporate clients, working with Global 1000 companies around the world, as well as with smaller, often family-run, businesses. As a professional speaker and consultant, he has delivered more than 1,000 presentations on a variety of topics, including corporate culture, emotional intelligence, building trust in organizations and integrating a multi generational workforce.
Dr. Grodnitzky's recent book, "Culture Trumps Everything: The Unexpected Truth about the Ways Environment Changes Biology, Psychology, and Behavior," investigates the powerful ways organizational culture impacts the creation of "quintessence" in organizations. It is this quintessence—or lack thereof—that ultimately determines the success and sustainability of those organizations, he believes.
Thus, if we want to ensure the best possible outcomes for ourselves and our organizations, we must focus on developing an organizational culture that fosters quintessence and leads to success for all stakeholders, because…culture trumps everything. When not traveling to see clients or give presentations, Dr. Grodnitzky lives in the mountains west of Denver, Colorado with his wife and black Labrador Retriever.
In this episode, Gustavo Grodnitzky and I discuss:
What is culture and how do you change an organization's culture?
How to start and what steps you should take to change culture in an organization
Do you need someone from outside to see a "new" perspective on things?
Thoughts on workforce being replaced by Millennials
How different generations approach work and life balance?
His book and closing thoughts
Resources mentioned in this episode: