Listen now to Kelly Roach talk about seeing things with fresh eyes and then making them happen!
As we build our On The Brink podcast to help you grow, we love speakers like Kelly Roach. She wants to help you become "Unstoppable." And you can. A successful entrepreneur, speaker and author, Kelly shares nine principles that can help you become unlimited in your success, both in business and in your personal life. It's a really great message and I know you'll learn a lot. Enjoy.
This podcast is all about how entrepreneurs see things with fresh eyes and then make them happen. Ideas are hard and implementing them is even harder. But you can do it. And, Kelly's nine principles can help you.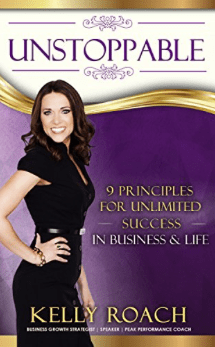 A former NFL cheerleader turned Fortune 500 executive and now CEO of Kelly Roach International, Kelly built her business on the side while holding down a corporate job before devoting herself to it full-time. Then she doubled her business when her daughter was just a newborn!
In addition to her entrepreneurial success, Kelly is the host of the top-rated podcast Unstoppable Success Radio and the author of the 11-time international bestseller "UNSTOPPABLE: 9 Principles for Unlimited Success in Business & Life." Featured on Inc.com and Forbes.com, Kelly also leads online coaching programs and offers private mentoring.
In this podcast you will enjoy listening to Kelly talk about:
Productivity tricks that can help you double your business while raising a family
The connection between living a healthy lifestyle and having a healthy business
Resources mentioned in this episode:
Download the 1-page synopsis of my book, "On the Brink: A Fresh Lens to Take Your Business to New Heights" here