Listen now to Kimberly Davis talk about how to be a brave leader!
In our Our The Brink podcasts, we focus on helping you make the changes that are essential for your growth, personally and professionally. Managing change requires you to become a brave leader. But how do you lead when those around you are watching to see if you succeed or fail? In this podcast, Kimberly Davis brilliantly helps us understand authentic leadership, how to find your courage, and how to trust your instincts to help others find the way forward. Don't miss it!
A professional actress-turned-leadership educator and now an expert on authentic leadership, Kimberly specializes in helping people become their true selves. As she tells us: "While we may think we need to follow some kind of prescription to get results, the most amazing leaders are those who dare to be their true selves, powerfully. People want to give their best. But in a business world that's so competitive and uncertain, how to you connect with others more authentically to tap into their illusive want?"
A TEDx speaker and highly sought-after presenter who captivates the hearts and minds of her audiences through her engaging yet intimate style, Kimberly shares her inspirational message of personal power, responsibility and impact with organizations across the world, most notably, "OnStage Leadership."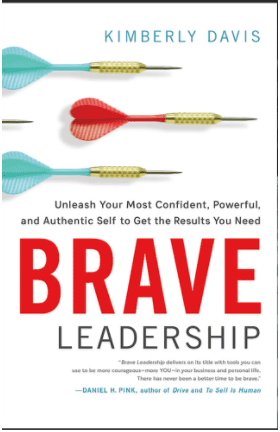 Additionally, Kimberly teaches "Authentic Influence and Executive Presence" at Southern Methodist University's Cox School of Business Executive Leadership Program, participates in the Women's Initiative Fellowship program (empowering female leaders from North Africa and the Middle East) at the Bush Institute, and is a key speaker for the National Hispanic Corporate Council Corporate Executive Development Program.
To learn more about "what it means to be brave," I urge you to pick up Kimberly's new book, "Brave Leadership: Unleash Your Most Confident, Authentic, and Powerful Self to Get the Results You Need" (endorsed by Daniel Pink!).
In this episode, Kimberly Davis and I discuss:
How to redefine what it means to be brave

How to be brave yourself, at work and in life

Why you should democratize the brave leadership conversation

What gets in our way of being brave


Some personal insights into how Kimberly became brave, then wrote about being brave and yet still struggles with it herself

Resources mentioned in this episode:
Download the 1-page synopsis of my book, "On the Brink: A Fresh Lens to Take Your Business to New Heights" here