Listen now as Kay Sargent talks about how workspace design is so important for profitability!
Work is what people do—not a place they go. And yet, as you will hear in my podcast with Kay Sargent, the place where people go to do their work has an enormous impact on the quality and quantity of the work they produce there. A recognized expert on workplace design, Kay works with businesses to design and build the right workspace for a fast-changing workforce who have no use for "business as usual." Sounds challenging? You bet it is. Hear how she does it so well.
What is the workforce of the future? And how does that impact workplace design?
How do companies determine what the right workspace solution for them should be? For starters, they call Kay Sargent. Based in Washington, D.C., Kay solves clients' business and organizational challenges related to strategic planning, workplace strategy and change management.
During our conversation, Kay shared with me how challenging it is to create optimal workplaces for today's constantly evolving workforce. With all the different changes taking place in the generations, the demand for gender and ethnic balance, and the integration of virtual workers, it's hard to strike a balance that meets everyone's workplace needs.
Most interesting, Kay said, is how difficult it is for people to visualize something different from what they are doing today—which fits into our "change is pain" mindset that we at SAMC talk about so often. Like us, she also uses the OCAI to better understand the culture of a client, because that culture hugely influences how they want their workspace to work for them. Should it be more collaborative or creative? Hierarchical or a playground? It all depends on the culture.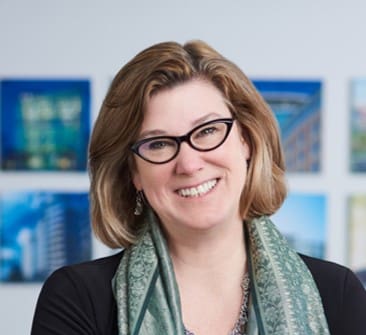 Some background on Kay
With more than 30 years' experience, Kay has worked with several Fortune 500 companies to optimize their global real estate portfolios and create innovative work environments. As director of HOK's WorkPlace team, a practice that supports organizations undertaking multiple projects in various locations, Kay is responsible for helping clients redefine how, when and where their people work, operating in tandem to support a holistic design approach that integrates an organization's people, processes and technology.
She has authored multiple white papers and articles on well-being, next-gen workforce, technology's impact on the workplace, space fusion and the rise of the human factor.
Kay speaks regularly at CoreNet, IFMA and other global industry events. She has been honored with the "Luminary Award" from CoreNet Global five times for being one of its top-rated speakers, and was also rated the "Top Rated Presenter" at Tradeline's 2015 Space Strategies conference.
You can reach Kay at kay.sargent@hok.com.
During our podcast, Kay and I discuss: 
Why creating a functional, positive space for the workforce of the future is so important for functionality and profitability

Creating spaces that accommodate each person by accounting for every factor of their being

The importance of knowing who your workers are now and who they will be in the future so you can create a workplace that is collaborative, comfortable and valued

Designing environments that encourage people to slow down so they can innovate

Shifting people from a "me" mentality to a "we" mentality

Understanding how artificial intelligence is changing the way we do business
For a deeper dive, we recommend these blogs and podcasts: 
Additional resources:
Download the 1-page synopsis of my book, "On the Brink: A Fresh Lens to Take Your Business to New Heights" here