"Making a Huge Impact on Schools and Colleges Across the Country."
"It's the right product at the right time."–Rod Magnuson, product director
Elkay Industries is a major multi-million dollar firm in the plumbing, water fountain and kitchen cabinet businesses. Their CFO had attended one of our workshops on "Change Matters: How to Find New Market Space." He finished the session and said to us, "We need your help."
For many years, Elkay had dominated the water fountain industry. In 2004, they developed a new, innovative addition to water fountains, but it wasn't selling well. The problem was that they were trying to sell it through their traditional distribution channel—to building owners, engineers, architects and facilities managers. Not much interest in adding a new top to a water fountain, especially one that was rarely used. What to do?
Just before we began working with Elkay, they serendipitously had a client re-position their product for them. It is an interesting story that reflects so very well how customer-inclusion can help you open new market space, in Blue Ocean® fashion.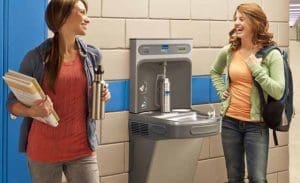 Their client  story: Muhlenberg College, located in the Lehigh Valley of eastern Pennsylvania, is among the many colleges and universities leading the charge towards minimizing environmental damage from plastic bottle waste. In 2009, students in an environmental communication course researched, designed and introduced to campus the "Just Tap It" project, an initiative dedicated to decreasing bottled water consumption.
Along with increasing the barriers to plastic bottled water, Muhlenberg College recognized the importance of ensuring that free, filtered water was readily available and easily accessible on campus. After extensively researching the options for bottle filling solutions, the Greening Committee determined that the Elkay EZH2O Bottle Filling Station would best meet the school's needs. The EZH2O is designed to provide end-users with a rapid fill of cold, filtered water for their existing bottles and cups, offering an alternative to drinking and discarding plastic bottles.
"We looked at a variety of bottle filling systems available in the marketplace, and found that the other options were either too susceptible to damage or overly expensive," stated David Rabold, facilities director for Muhlenberg College. "The key factors in our decision to install the Elkay EZH2O included its rugged, durable design, its coolness factor that made it attractive to students, and the fact that the retro-fit models could be easily adaptable to the existing Elkay water coolers on campus."
Prior to this effort, approximately 15,000 plastic water bottles were consumed on campus every week. Today, that number has been reduced by 92 percent.
Muhlenberg  College basically created a new market for Elkay. Sustainability directors at colleges across the country wanted to eliminate the use of plastic water bottles. The challenge for Elkay was how to open up this new market space rather than try to continue to sell through traditional distributor channels.
In the midst of Muhlenberg College's project, Elkay hired SAMC to help them map out a course for the future. We ran two 2-day sessions, first with the executive team and then with the managers from different departments across the country. Using our Blue Ocean Strategy® tools and Innovation Games®, we led them through a process of discovery and creative development as they:
Built their Strategic Canvas
Reversed Everything
Built a Better Product Box
Worked through their options with the Innovation Game "Now/Wow/How"
The real "aha" moment came when one of the managers said: "Oh my, this is all about 'Killing the Bottle.' Not about building a better water fountain." Then seemingly in unison, the entire room turned together and started moving in an entirely new direction. Most interesting to us was the fact that on the table were lots of plastic water bottles. The folks at Elkay had not even realized that they were now in the "sustainability" industry and that their product was designed to replace plastic bottles with better bottle-filling solutions.
The outcome of the 2-day retreat was to re-position the "Hydration Station" and go after an entirely new market, Blue Ocean-style. Elkay suddenly realized there was an "unmet" need among "non-users"—namely, college sustainability directors who were working hard to eliminate plastic water bottles on their campuses. 
Elkay also hired a new team of sales people dedicated to this emerging product line. Their "Hydration Stations" have now turned into a major new line of business for the company, completely transforming their sales process, distribution channels and marketing strategies.