Time to Find Your Blue Ocean Strategy? We Can Help!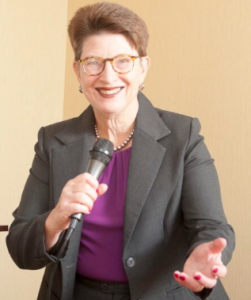 Hi, I'm Andrea (Andi) Simon, Ph.D., corporate anthropologist, founder and president of Simon Associates Management Consultants (SAMC), and a trained practitioner in Blue Ocean Strategy. A widely-engaged speaker on the topic, I've conducted over 400 workshops and speeches and worked with dozens of clients on their Blue Ocean Strategy, all of whom have found my approach very applicable to their business challenges. Hire me to speak to your organization.
Blue Ocean Strategy shows you how to find unmet customer needs and uncontested market space you can own
As Blue Ocean Strategy creators Reneé Mauborgne and W. Chan Kim discuss in their widely-acclaimed book, "Blue Ocean Strategy," Blue Ocean Strategy focuses on unlocking new markets, described as "blue oceans," rather than competing in existing markets, or "red oceans." By creating a blue ocean of new customers, businesses don't compete for a small, highly competitive pool of existing customers. Instead, they go where the profits and growth are and the competition isn't.
A Blue Ocean Strategy will help you:
Position yourself so that your competition is irrelevant
Identify unmet needs among your customers and potential customers
Add value in innovative ways
Align your entire organization behind company goals
Create demand in an entirely new market space
To learn how your business could benefit from Blue Ocean Strategy, we recommend:
As a first step, download our free webinar

Are you ready to leave the bloody waters of the red ocean you're swimming in and instead, experience the clear, uncontested waters of a Blue Ocean? Let's talk.