Save the date and share the joy as we celebrate and elevate the 102 extraordinary women who share their wisdoms and personal insights in this groundbreaking book so that other women can rise to great heights too. Join us as we make Women Mean Business: Over 500 Insights From Extraordinary Leaders To Spark Your Success (Andrews McMeel, September 26th) the businesswomen book of the decade.
DATE:  Tuesday, September 26th
TIME: 4:00-5:00 pm EST

Our thanks to The Female Quotient who proudly features the Women Mean Business Celebratory Book Launch as part of their ongoing author series.
Women Mean Business is all about championing the success of women in business and helping others also achieve great things: "As I rise, I lift others." These remarkable women are smashing gender barriers and driving change, and Sept. 26th, you can meet them, learn from them, and be inspired by them. To order your copy of Women Mean Business, click on the book below.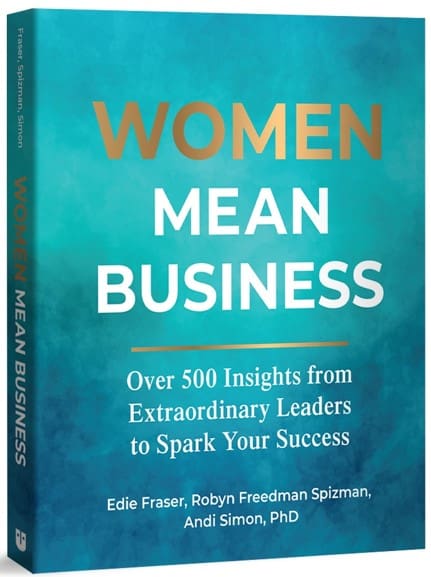 Join us. Bring your friends, your colleagues, and your teams to our Virtual Book Launch Celebration. Please share this invite!
Can't wait to celebrate with you,
Edie Fraser
Robyn Freedman Spizman
Andi Simon, PhD
WOMEN MEAN BUSINESS® is a registered trademark of the National Association of Women Business Owners® (NAWBO)